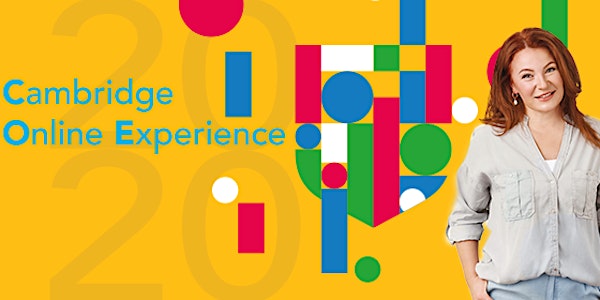 Cambridge Online Experience
Descrizione
Ti diamo il benvenuto alla prima Cambridge Online Experience, un esclusivo evento online di 3 giorni per supportare i docenti della scuola primaria e secondaria in tutta Italia!

Partecipa, direttamente dalla comodità del tuo divano e con una tazza di tè caldo, ad una serie di workshop e lezioni interattive, con alcuni fra i migliori teacher trainer ed esperti nell'insegnamento dell'inglese in Italia!

Ti proponiamo una vasta scelta di argomenti: puoi seguire l'intero evento o solamente i talk che ti interessano di più!
Programma:
Martedì

31

Marzo:

14.30 – 15.30 – Sarah Ellis – Motivating young learners in the Classroom

16.00 – 17.00 – Fabio Galvanini – Listening is fun!

17.15 - 18.15 – Simon Lind – Language Awareness in the Primary Classroom (CLIL)
Mercoledì 1
Aprile:

14.30 – 15.30 – Matt Ellman – Digital tools for improving speaking skills

16.00 – 17.00 – Colin Williams – Towards the perfect test

17.15 – 18.15 – Jonathan Hadley – Ways to improve CLIL teaching
Giovedì

2

Aprile:

15.00 – 16.00 – Sarah Ellis – Using digital tools to develop language skills for Cambridge English exams

16.15 – 17.15 – Olha Madylus – Real English, From the Street to the Classroom!

17.15 – 18.00 – Cambridge – Supporting Every Teacher





Il programma dettagliato e le istruzioni per accedere ad ogni workshop saranno indicati nell'email di conferma. In caso non fosse immediatamente visibile, consigliamo di controllare la casella spam.

La partecipazione all'evento è gratuita. I posti per ogni session sono limitati per cui è consigliato accedere qualche minuto prima dell'inizio della stessa. L'evento prevede il rilascio di un certificato di partecipazione valido per l'esonero ministeriale. L'evento è disponibile su S.O.F.I.A. (ID 42932).