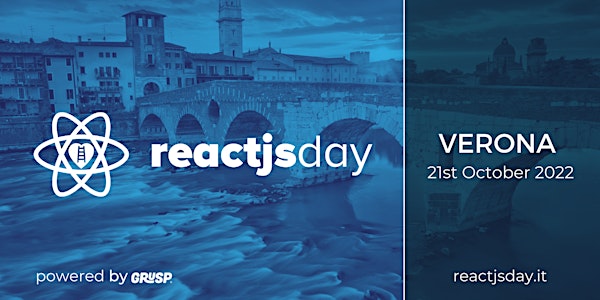 reactjsday 2022
reactjsday 2022 - The international conference about reactjs, in Verona (Italy)
When and where
Location
Via Baldassarre Longhena, 42 42 Via Baldassarre Longhena 37138 Verona Italy
About this event
Connect with the Italian and International reactjs Community
reactjsday 2022 is the 8th edition of the Italian React.js conference, organized by GrUSP, happening in beautiful Verona (Italy).
The event is international and all sessions will be in English.
📅 WHEN
Conference: Friday 21st October 2022.
Workshops: Thursday 20th October 2022.
📍 WHERE and HOW
The conference is hybrid: it takes place in person in Verona and it is also possible to participate online.
Access to the physical event will be subject to current COVID-19 regulations, which may change by the conference date.
Access to the online event only (live broadcast of the conference) can be purchased separately.
🎯 CONFERENCE SCHEDULE (Friday, 21st October)
Find out more about speakers and talks on the website!
🖥 WORKSHOPS (Thursday, 20th October)
➡️ (🇬🇧 English Language) Principles and patterns in designing good React components
Designing good React components that can help the team steadily build reliable features while maintaining a quality codebase is not an easy feat. In this workshop of 8 hours, we're gonna cover principles of good architecture and how to apply them to a real-world React use case. Throughout the workshop, we're gonna development a sandbox application and explore how to design good React software. Topics include decomposing UI complexity into proper components, enforcing business rules in the type system, composing asynchronous side-effects and testing everything of course. Find more details on the website.
➡️ (🇮🇹 Italian Language) Integrare Unit e E2E test in applicazioni React 18
Impara ad integrare i primi unit e E2E test in applicazioni React 18 con Cypress e React Testing library. 'L'integrazione di test in applicazioni front-end è troppo complesso e costoso!' Quante volte avete sentito o letto questa frase? Tuttavia, i tool di ultima generazione hanno notevolmente semplificato il processo di creazione e integrazione di test. In questo corso della durata di 5 ore analizzeremo i vantaggi di integrare Unit test e E2E test in Single Page Application sviluppate in React 18/TypeScript, partendo dalla configurazione degli strumenti ed esplorando diverse tecniche per la loro integrazione in moltissimi scenari e casi d'uso. Trovi maggiori dettagli sul sito.
🎫 TICKETS
"Access to the in-person event in Verona" - includes:
Access to the conference venue (Verona, Italy) on 21st October 2022;
Lunch and coffee break on the conference day;
Access to the virtual venue (online broadcast) of the conference;
Access to video recordings.
DOES NOT include access to the workshop.
"Access online event only" - includes:
Access to the virtual venue (online broadcast) of the conference on 21st October 2022;
Access to video recordings.
"Workshop" - includes
Access to the workshop venue (Verona, Italy) on 20th October 2022;
Lunch and coffee break on the workshop day.
DOES NOT include access to the conference.
For each conference, the price of the hybrid ticket depends from the period of sale. Very early bird tickets are the cheapest tickets that can be purchased and are limited in number, for this reason no discounts are applied to this type of ticket if a scholarship is requested while they are on sale.
➡️ ACCESSIBILITY
We work every day to make our conference accessible and inclusive for as many people as possible. Here you can find the level of accessibility for our online and in person events. This is possible thanks to the fund dedicated to diversity and inclusion. If you have special needs, write to us or tell us by filling out the registration form, we will do our best to meet your needs.
🌈 SCHOLARSHIPS
Thanks to our scholarships program we provide free or discounted tickets for students or groups that are under-represented in the tech area. Here you can find more details and request a free ticket. The costs of transport, food and accommodation are not covered.
🔎 SPONSOR
We are looking for sponsors who want to support the conference to get in touch with the International reactjs community. Write to reactjsday@grusp.org for information and discover all the opportunities for your company.
🤝 PARTNER
Are you an organizer of a reactjs community? Become our partner to receive discounts and free tickets that you can share with community members. Here you will find our partnership proposal and all the useful details.
📌 CODE OF CONDUCT
To ensure that anyone can feel comfortable and safe we apply the following code of conduct: grusp.org/en/coc
🔔 ABOUT REACTJSDAY
The conference is organized by GrUSP, creators of events like jsday and many more.  
You can find videos from past editions on GrUSP's channels: Vimeo - Youtube.
Follow reactjsday on Facebook and Twitter.
You can find GrUSP on Instagram, Linkedin, YouTube, Vimeo, Facebook, Twitter, Slack.
Subscribe to GrUSP newsletter: grusp.org/en/nl
❓FAQ
The tickets are not refundable.
What if the pandemic situation get worse? We're watching the evolving situation closely, and we'll be ready to switch to an online event if the situation won't be safe.
INVOICING: you'll receive an email with the instructions after the purchase.
If you are a student, or you need to buy multiple tickets (at least 5 tickets of any kind), send a mail to info@grusp.org for a discount.
The tickets are nominative: you can change the name on it until a week before the event.
The event is organized and sold by Apropos, on behalf of GrUSP.