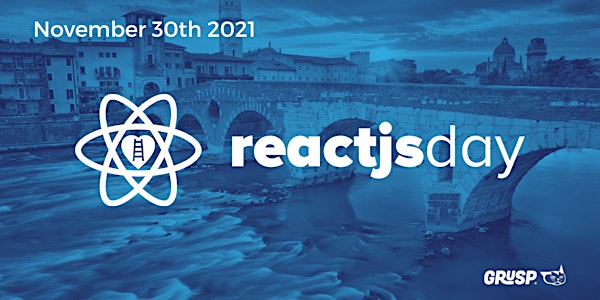 reactjsday 2021
reactjsday 2021 is happening online on November 30th, 2021
About this event
Connect with the Italian and International React Community: meet us online on November 30th 2021 for a free event!
👉 The DIGITAL conference will be accessible only to registered participants. It will be held on Hopin, a virtual venue in which you'll be able to:
watch the live streaming and learn from top-notch speakers;
ask questions to speakers and interact with them;
chat and talk with other attendees, interact and make connections.
🎯 TALKS AND SPEAKERS
How to View and React without a Head - Facundo Giuliani, Developer Relations Engineer @ Storyblok
Flutter for React and React Native developers - Majid Hajian, Software Engineer, Google developer expert
Stealth-mode North Star! Rebranding in secret with feature flags - Kathleen McMahon, Senior Design Engineer @ LaunchDarkly
Configuring Storybook to Create Accessible React Components - Kathryn Grayson Nanz, Developer Advocate for KendoReact @ Progress Software
Master of Ceremonies: m4dz 🥑🦄, Principal Developer Advocate @ ‹div›RIOTS
📝 CONFERENCE AGENDA
The live streaming on the virtual venue starts at 2:15 PM CET/UTC+1 and will end at 6 PM CET/UTC+1. More details on reactjsday.it/schedule/
🔎 SPONSOR
If you are interested in sponsoring the event, you can reach out to reactjsday@grusp.org
🤝 PARTNERS
Are you an organizer of a React community and would you like to partner with us? Read our presentation and request the partnership by filling this form (bit.ly/BecomeGrUSPPartner).
🔔 ABOUT
The conference is organized by GrUSP, creators of events like jsday (and many others). 
You can find videos from past editions on GrUSP's channels: Vimeo - Youtube.
Follow reactjsday on Facebook and Twitter
You can find GrUSP on Instagram, Linkedin, YouTube, Vimeo, Facebook, Twitter, Slack.
Subscribe to our newsletter: bit.ly/grusp-nl