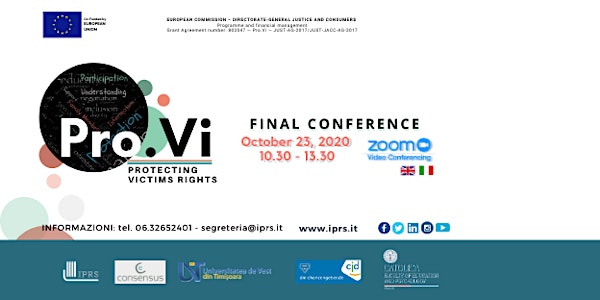 Pro.Vi - Protecting Victims' Rights - Final Conference
Conference languages: English-Italian. Simultaneous interpretation will be provided/Conferenza in Inglese-Italiano. traduzione simultanea
About this event
EU Directive 2012/29/EU has spurred numerous advances in the protection of victims' rights. The EU co-funded project Pro.Vi – Protecting Victims' Rights coordinated by the Psychoanalytic Institute for Social Research (IPRS) has sought to integrate the European Union's efforts to promote the development of an efficient victim protection system by addressing the challenges each of the partner countries (Italy, Portugal, Germany, Spain, Romania) is facing in the implementation process and improving the competencies of justice system and restorative justice practitioners in order to support victims of crime, enabling victims to understand and access their rights.
While recognizing the multitude of issues raised by the Directive, the final conference of Pro.Vi – Protecting Victims' Rights addresses some of the issues that have emerged in the implementation of the Victims' Directive related to:
the dilemmas and ethical issues arising in communication with victims about their rights in criminal proceedings when the offender is a juvenile which are not addressed in the Directive, and
the challenges in the implementation of psychosocial assistance or similar services as a means of supporting victims during criminal proceedings and reduce the risk of retraumatization by the system.
Conference languages: English and Italian. Simultaneous interpretation will be provided.
INFO: https://www.protectingvictimsrights.eu/
----------------------------------------------------------------------------------------------------
A partire dalla pubblicazione della Direttiva UE 2012/29 UE, la cosiddetta direttiva sulle vittime, che istituisce norme minime in materia di diritti, assistenza e protezione delle vittime di reato, sono stati compiuti notevoli progressi in quest'ambito.
Se sono stati apportati miglioramenti nel garantire alle vittime di reati l'accesso a tali diritti, agli strumenti di sostegno e protezione e negli standard di fornitura di servizi mirati, il processo di implementazione della Direttiva ha messo in luce sia le sfide nell'accesso ai diritti e agli strumenti di protezione, sia lo sviluppo di pratiche innovative in risposta alle esigenze delle vittime di reati.
In questo contesto, il progetto co-finanziato dall'UE "Pro.Vi - Protecting Victims' Rights", coordinato dall'Istituto Psicoanalitico per Le Ricerche Sociali (IPRS), ha cercato di integrare gli sforzi dell'Unione Europea per dare impulso allo sviluppo di un efficace sistema di protezione delle vittime, in primo luogo, affrontando le sfide che ciascuno dei paesi partner (Italia, Portogallo, Germania, Spagna, Romania) sta incontrando nel processo di implementazione della Direttiva.
La conferenza finale di "Pro.Vi – Protecting Victims' Rights" ne affronterà due in particolare:
La prima è una sfida aperta, che la Direttiva non affronta esplicitamente ma che riguarda i dilemmi e le questioni etiche che si aprono relativamente alla comunicazione con le vittime in merito ai loro diritti nel procedimento penale quando l'autore del reato è un minorenne;
La seconda è una buona pratica di "assistenza psico sociale" sviluppata in Germania che offre risposte efficaci ad uno dei temi chiave che la Direttiva solleva, ossia l'offerta di un sostegno alle vittime nel procedimento penale per ridurre il rischio di ri-traumatizzazione da parte del sistema.
La conferenza si terrà in Inglese e in Italiano. Verrà messo a disposizione un servizio di traduzione simultanea