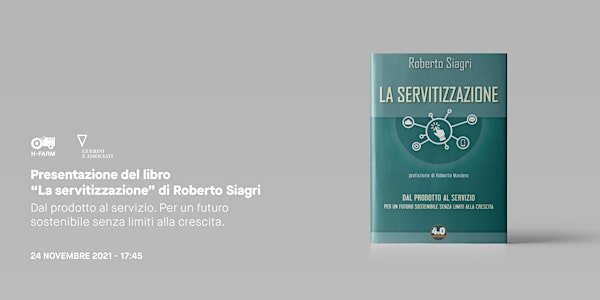 Presentazione del libro "La servitizzazione. Dal prodotto al servizio."
Ti aspettiamo alle 17:45 presso la Library dell'H-FARM Campus.
When and where
Date and time
Wednesday, November 24, 2021 · 5:45 - 6:45pm CET
Location
H-FARM CAMPUS 1 Via Adriano Olivetti 31056 Roncade Italy
About this event
Roberto Siagri intervistato da Marco De Rossi, Head of Admissions & Marketing di H-FARM INTERNATIONAL SCHOOL, presenta "La servitizzazione. Dal prodotto al servizio. Per un futuro sostenibile senza limiti alla crescita" della Collana "4.0 Guerini" edita da "Guerini e Associati".
É un'idea rivoluzionaria e molto vicina quella che sta alla base del libro scritto dall'imprenditore del mondo dell'informatica: il nostro futuro sarà fatto di cose che non vorremo più possedere ma semplicemente utilizzare e poi condividere, pagheremo il tempo e non il possesso.
Resa possibile dal progresso delle tecnologie digitali, la trasformazione dell'economia del prodotto in economia dei servizi è una realtà ormai in atto. La capacità quasi miracolosa del digitale di «servitizzare», cioè di convertire il prodotto in servizio, ci offre una straordinaria opportunità di crescita sostenibile che vedrà tutti vincitori: le imprese, la società e l'ambiente.
Ma quali sono le componenti necessarie per fare in modo che avvenga una simile trasformazione? Concetto, convenienza economica, tecnologia e soprattutto volontà. Per accelerare il processo infatti, è necessario un cambio di mentalità: serve una nuova generazione di consumatori più interessata all'accesso ai beni che al loro possesso, ma anche una nuova generazione di imprenditori in grado di utilizzare i mezzi straordinari messi a disposizione dalle tecnologie digitali, con cui creare imprese nuove, efficienti e sostenibili.
E la generazione più pronta è quella di chi è nato tra il 1990 e il 2000: la generazione Z è da sempre meno legata alla materia in favore del servizio e più vicina all'uso delle cose, abituata ad ascoltare la musica su Spotify e non a comprare un CD, a guardarsi un film su Netflix piuttosto che ad acquistare un DVD.
Di questo e molto altro parleremo insieme all'autore mercoledì 24 novembre presso la Library dell'H-FARM Campus, ti aspettiamo!
Roberto Siagri, laureato in fisica, ha maturato una lunga esperienza nel settore dell'ICT attraversando le tre grandi rivoluzioni tecnologiche: quella del PC, quella di Internet e quella del Cloud. Ha co-fondato Eurotech nel 1992 e ne è stato l'amministratore delegato fino al marzo del 2021, dedicandosi a temi legati a internazionalizzazione, innovazione, e sviluppo di nuovi modelli di business abilitati dalle tecnologie digitali.
Per partecipare alla presentazione è necessario essere in possesso del green pass.
About the organizer
H-FARM is the innovation platform that supports the creation of new business models and the digital transformation and education of young people and companies.
Founded in January 2005 as the first startup incubator in the world, H-FARM has been able to re-invent itself and adapt to market needs without ever losing sight of its core values that lie in seizing the opportunities created by digital innovation and in maintaining a Human-centric approach.
Today, it is the only place in the world that unites in a single place investments, services for businesses and educational programmes. Structured as a campus minutes away from Venice, H-FARM spreads out over 51 hectares, 20 of which is woodland, and is the most important center for innovation in Europe. Counting over 600 employees across Italy, H-FARM is an unequalled ecosystem at an international level.