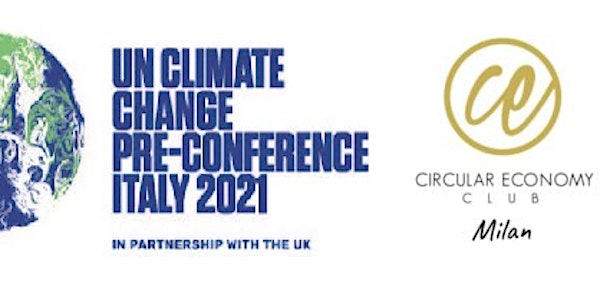 PreCOP26 : Circular Economy and Climate Change Roundtable
Join the Circular Economy Club roundtable at the UN Pre-COP26 exploring how circular economy can address climate change pressing challenges
About this event
By the occasion of the United Nations Climate Change Conference - COP 26 preparatory meetings hosted in Milan, governments will exchange their views on key political aspects of the negotiations and offer guidance for subsequent negotiations.
This occasion is also an opportunity for all stakeholders to raise their voices on the fight against climate change and towards sustainable development. As recognized by the UN, circular economy is crucial towards reaching the Paris Agreement Goals.
The Circular Economy Club Milan will host an open roundtable with youth, academia, civil society and business to explore together how circular models and solutions can help us tackle climate change and move towards resilient and regenerative economies.
Agenda
10:00 - 10:10 Introduction and greetings from Circular Economy Club Milano
10:10 - 10:40 Introduction to Circular Economy and Climate Change in European Policy - Ricieri Vidal Marchi (International Law Department, University of Milan)
10:40 - 11:10 The Industrial Symbiosis as a system thinking approach to contribute to climate change response - Annalisa Moro and Valerio Verderio (Circularity Srl)
11:10 - 11:40 "Be carbon neutral now" - enabling companies to take climate action - Francesca Milani and Giorgio Bertolini (Climate Partners)
11:40 - 12:10 "Carbon farming" as a solution for the benefit of the environment and of agriculture: Neorurale Hub case study - Carlotta Manzoni and Giovanni Boschin (Neorurale Hub)
12:10 - 12:40 Aworld presentation
Here's the link to participate: https://teams.microsoft.com/l/meetup-join/19%3ameeting_YmY3YjZjZWUtOTUyYS00YTgyLWEwYTctNWVjNGY5MzZjNjk5%40thread.v2/0?context=%7b%22Tid%22%3a%229034fe16-2c88-4f1e-afa3-db41b868f863%22%2c%22Oid%22%3a%221eb66ec5-7f7e-4163-8639-0a98251d927b%22%7d