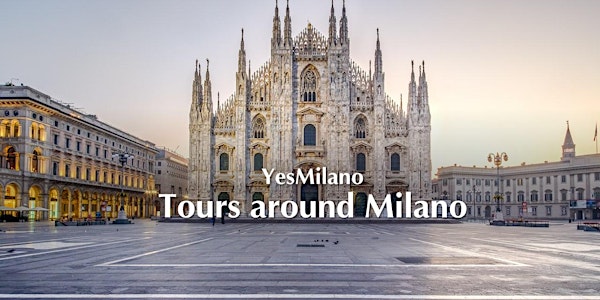 Porta Ticinese walking tour
Porta Ticinese Walking Tour
When and where
Location
YesMilano Infopoint 8 Via dei Mercanti 20121 Milano Italy
About this event
Il costo è 12€, da pagare in contanti direttamente alla guida in loco prima della partenza del tour.
Nella conferma di prenotazione troverai i recapiti della tua guida: per ogni evenienza o domanda.
The cost is 12€ to be paid in cash to the guide directly before the tour starts.
You will receive your guide contacts in the booking confirmation, for any need and inquiries.
La zona di Porta Ticinese, molto amata e frequentata dai giovani, è uno dei quartieri più antichi della città e nasconde affascinanti testimonianze delle sue diverse epoche storiche. La visita guidata sarà una passeggiata alla scoperta di quest'area partendo da Piazza Mercanti, cuore della Milano medievale.
Passeggiando lungo via Torino arriveremo in Corso di Porta Ticinese dove il ricordo dell'epoca romana è ancora molto vivo, in particolare nella zona del Carrobbio, delle colonne di San Lorenzo e dell'omonima basilica. A poca distanza troviamo ancora la Porta Ticinese di età medievale che ci riporta all'epoca in cui Milano era cinta da mura lungo le quali si aprivano porte e pusterle.
Attraversando il suggestivo Parco delle Basiliche raggiungeremo la basilica di Sant' Eustorgio e concluderemo affacciandoci in Piazza XXIV Maggio per dare uno sguardo all'imponente arco neoclassico di Luigi Cagnola conosciuto come la Porta Ticinese più "moderna".
During this walking tour you will be able to visit Porta Ticinese, one of Milan's liveliest districts just few minutes on foot from Piazza Duomo.
The walking tour starts from Piazza Mercanti and, after a pleasant stroll along via Torino, we'll reach Porta Ticinese district. In this neighborhood we can find a little bit of ancient Rome: the remains of a tower of the roman walls in Largo Carrobbio and the sixteen "columns of San Lorenzo" coming from some roman buildings. The columns were used as an atrium for the ancient Basilica di San Lorenzo, built between the 4th and 5th centuries. We'll see the amazing architecture of the church walking around the lovely Park of the Basilicas.
Not far from here we'll discover the remains of the ancient Porta Ticinese that opened along the medieval walls of the city. After a stroll along Corso di Porta Ticinese we'll reach the ancient Basilica di S. Eustorgio, whose history is connected to the legend of the Three Wise Man, and Piazza XXIV Maggio close to the Navigli district.