phpday 2021 is happening online on June 8th and 9th, 2021
About this event
phpday 2021 Digital Edition
Connect with the Italian and International PHP Community: meet us online on Tuesday 8th and Wednesday 9th June 2021
phpday is the annual international conference about PHP, organized by the Italian PHP User Group, GrUSP.
It's aimed to IT managers, developers and innovators.
We'll show new development traits, best practices and success cases related to quality, revision control, test-driven development, continuous integration and so on.
👉 The DIGITAL conference will be accessible only to registered participants. It will be held on Hopin, a virtual venue in which you'll be able to:
watch the live streaming and learn from top-notch speakers;
ask questions to speakers and interact with them;
chat and talk with other attendees, interact and make connections.
🎯 TALKS AND SPEAKERS
Find all the details and the schedule on the website.
Damien Seguy - 15 years in the life of elephpant
Derick Rethans - What's new in PHP 8.1
Stefan Koopmanschap - Sustainable open source contributions in your business
Marco Perone - PHP :purple_heart: types
Arne Blankerts - PHPUnit 10: The new Event Subsystem
Larry Garfield - Never* use arrays
Alexander Makarov - Security: From basic principles to PHP specifics
Lorna Mitchell - Introduction to Timeseries Databases
Christoph Rumpel - Debugging With PhpStorm And Xdebug
Enrico Zimuel - Programming Elasticsearch with PHP
Anna Filina - Rewriting Legacy Code
Sabine Wojcieszak - Communication - the Crucial Key to Success in Uncertainty
🎫 TICKETS AVAILABLE
"phpday Digital Edition Ticket" gives you access to the live event on June 8-9th and to all the recorded contents.
"GrUSP 2021 SEASON PASS". a Golden Ticket that gives you access to all of our 2021 virtual events. See below the full list. 
🌈 SCHOLARSHIPS
We have a scholarships program: you can apply for a free ticket if you are a member of under-represented groups in technology - women, minorities, LGBTQIA+, people with disabilities, or other under-represented groups.
🐘 The phpday elePHPant is on sale
GrUSP is happy to present you Aida: the phpday elePHPant. Visit the shop to get yours!
Would you like to get a discount? Get your ticket for phpday and you will receive a 30% discount code to get your Aida ♥ Hurry up, the promotion is valid only for the first 50 attendees!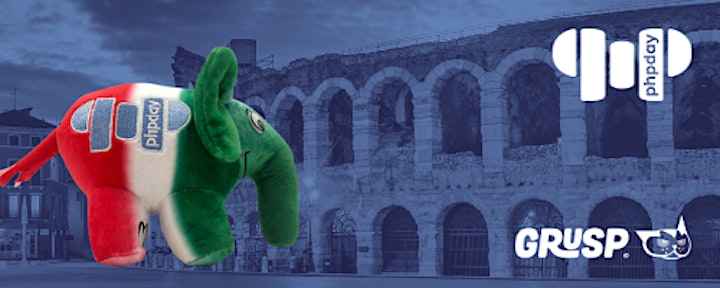 ❓FAQ
The tickets are not refundable.
INVOICING: you'll receive an email with the instructions after the purchase.
If you are a student, or you need to buy multiple tickets (at least 5 tickets of any kind), send a mail to info@grusp.org for a discount.
The tickets are nominative: you can change the name on it until a week before the event.
The event is organized and sold by Apropos, on behalf of GrUSP.
CONFERENCES INCLUDED IN "GrUSP SEASON PASS"
You'll get access to the upcoming events, and the recordings of the past ones: