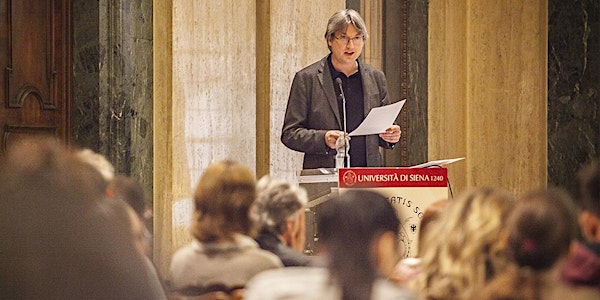 Photography Talks
Presenting their own work will be photo editors, photojournalists, and 2022 award-winning photographers of the Siena Awards.
When and where
Location
Teatro Comunale dei Rinnovati Il Campo 53100 Siena Italy
About this event
Some of the most prominent National Geographic photographers will present their retrospectives and their most recent reportages.
Leading experts will discuss topics, reporting on the impact of wars and conflicts, modern ways of storytelling, and investigative journalism.
REGISTRATION DESK | 3:30pm – 4:00pm
LET'S TALK ABOUT | 4:00pm – 4:30pm
Danish Siddiqui: Documenting Humanity Beyond Borders
What is involved in photographically documenting conflict and crisis? What ethical, security, physical, and emotional risks do photojournalists face? What are their experiences on the ground?
A conversation with Adrees Latif (nominee Storytelling) and Frederike Harrant, widow of the Reuters photographer Danish Siddiqui who was killed in a Taliban attack in Afghanistan in 2021.
Talk moderated by Pino Di Blasio, LA NAZIONE Newspaper Editor-in-chief.
KEYNOTES
Kathy Moran: Conservation Storytelling | 4:30pm – 4:45pm
A look at the evolution of conservation storytelling at National Geographic from purely wildlife photography focusing on behavior towards features that shine a light on issues of wildlife conservation and animal welfare.
National Geographic magazine's former Deputy Director of Photography. As the magazine's first senior editor for natural history projects, Moran has been producing projects about terrestrial and underwater ecosystems for the magazine since 1990. She was the project manager for the National Geographic Society/Wildlife Conservation Society's partnership documenting photographer Nick Nichols and Dr. Michael Fay's trek across Central Africa.
Kathy Moran will introduce the four photographers on display during the Siena Awards festival with a solo exhibition
Peter Mather: Urban Foxes and Ice Grizzlies | 5:15pm – 5:45pm
This talk is about Peter Mather's last two projects to capture foxes in their not-so-natural habitats of Whitehorse in Canada while adapting to and living with people, and to photograph grizzlies fishing for salmon in southwestern Yukon near Klukshu village, by using 12 remote camera traps for two years.
COFFE BREAK | 5:45pm – 6:00pm
Dan Winters: Road to Seeing | 6:00pm – 6:30pm
The talk will be a survey of recent work, and work from Dan's archive, both assignment work and personal.
Steve Winter: My Life with Big Cats | 6:30pm – 7:20pm
A great retrospective of Steve Winter's work for National Geographic to document the Big Cats!
This talk is about Steve Winter's photography of big cats, from locations like Asian jungles where resilient tiger populations persist to the Himalayas, home of the rare snow leopard, throughout the rainforests of Latin America to view the elusive jaguar, and into the Hollywood Hills in pursuit of the American cougar.
5 PICTURES | 7:20pm – 8:00pm
This Roundtable Conversation will address photography through viewing and discussing five images by the photographers involved.
Peter Mather, Javier Aznar, Steve Winter, and Dan Winters will converse and their personal opinions on photography by commenting on five photos previously selected by themselves among images from their archives, photos made by colleagues, historically significant photographs, or those that may have inspired their careers.
Even family shots could be used as we would love to know more about photography as a window into the intimate moments of life.
Talk moderated by Kathy Moran.
Free admission.
When attending theater talks, we kindly ask that you take your seats at least 5 minutes before the scheduled start time to avoid disturbing others by entering after the start. Theater events are currently operating at a reduced seating capacity. Please arrive at the theater entrance at least 15 minutes before the scheduled start time.