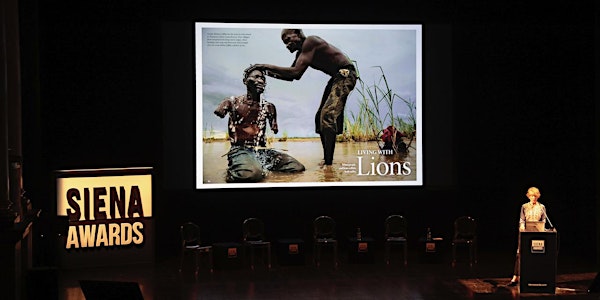 Photography Talks 2023
Presenting their own work will be photo editors, photojournalists, and 2023 award-winning photographers of the Siena Awards.
Date and time
Thu, 28 Sep 2023 15:00 - Fri, 29 Sep 2023 20:00 CEST
Location
Teatro Comunale dei Rinnovati Il Campo 53100 Siena Italy
About this event
Some of the most prominent National Geographic photographers will present their retrospectives and their most recent reportages.
Leading experts will discuss topics, reporting on the impact of wars and conflicts, modern ways of storytelling, and investigative journalism.
3.00pm: Welcome Speech
____
4:30pm: 5 PICTURES
This Roundtable Conversation will address photography through viewing and discussing five images by the photographers involved.
Talk moderated by Kathy Moran.
____
Free admission.
When attending theater talks, we kindly ask that you take your seats at least 5 minutes before the scheduled start time to avoid disturbing others by entering after the start. Theater events are currently operating at a reduced seating capacity. Please arrive at the theater entrance at least 15 minutes before the scheduled start time.
About the organiser
Siena Awards è il nome sotto il quale si raccoglie l'esperienza del Siena International Photo Awards, un evento di respiro internazionale che, in pochissimi anni è riuscito ad accreditarsi come uno dei più importanti premi fotografici del mondo.
On Sale 1 Sep 2023 at 00:00