Multiple Dates
Philosophy Faculty Colloquium Series, 2020-2021
Every other Thursday, during the school sessions, there is a different philosophy colloquium talk between 4-5pm. 40 min talk w/ 20 min Q&A.
About this event
Sign up to be informed about and to receive a link to the online event each week. You can register to attend each event separately, and we will send you e-mails informing you about the series. As of now, the event is entirely online, but we will inform you if (in the future) it becomes possible to hold any sessions in person.
The current schedule for the talks in the school year, 2020-2021, are as follows:
Oct 29 Robert Pasnau (UC Boulder) Choosing Between Faith and Heresy
Nov 12 Richard Kim (Loyola U Chicago) Well-Being and Confucianism
Nov 26 Domenico Melidoro (LUISS) Diversity and Liberalism
Dec 10 Kevin Vallier (BGSU) Topic TBA: [Political Philosophy/Public Reason]
Jan 21 Edward Chen (UCSD) Topic TBA: [Philosophy of Science]
Feb 18 William Dunaway (UMSL) Topic TBA: [Theological Predication]
Mar 4 Taylor Patrick O'Neill (Mount Mercy) Topic TBA: [Grace and Freedom]
Mar 18 Anand Jayprakash Vaidya (San Jose State University) Topic TBA: [Epistemology of Modality]
Apr 15 Thomas Osborne, Jr. (University of St. Thomas, Houston) Topic TBA: [Thomism]
Apr 29 Nicholas Teh (University of Notre Dame) Topic TBA: [Philosophy of Science]
May 13 Jennifer Frey (Univ. of South Carolina) Topic TBA: [Action Theory, Anscombe]
May 27 Doug Berger (Leiden University) Topic TBA: [Asian Philosophy]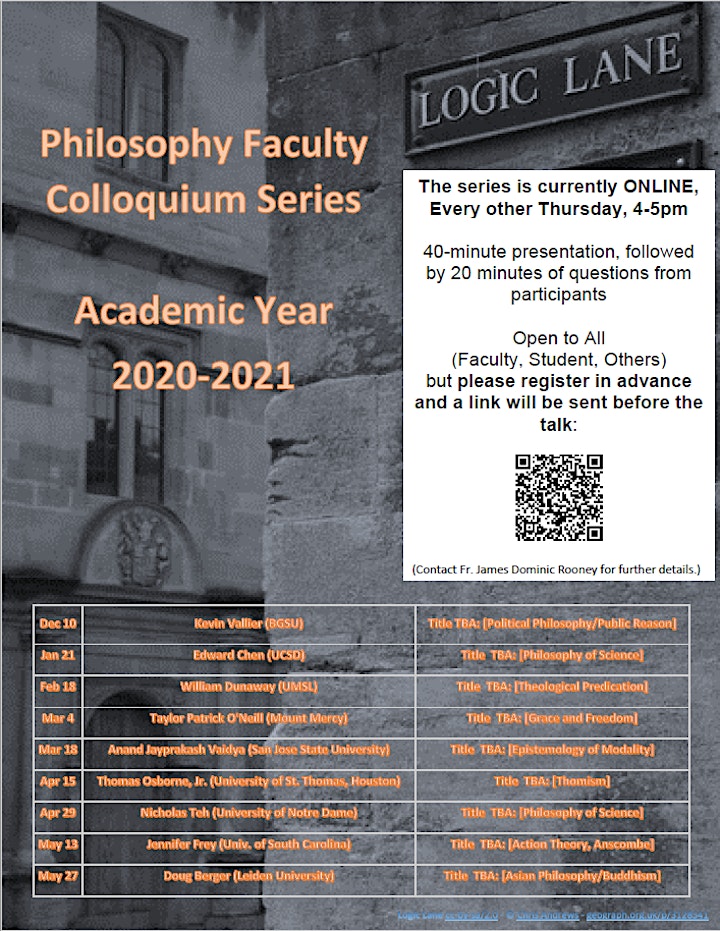 Organizer of Philosophy Faculty Colloquium Series, 2020-2021
The Pontificia Università S. Tommaso d'Aquino in Urbe (Pontifical University of St. Thomas Aquinas), popularly known as "the Angelicum," is an international center of learning in the historic center of Rome, Italy. The Angelicum's most distinguished alumnus is Fr. Karol Józef Wojtyła (Pope St. John Paul II). The same classrooms where he studied Theology and defended his doctoral dissertation are still in daily use by our 1,200+ professors and students coming from over 90 countries.

The university is run by the Dominicans (Order of Preachers) and has faculties of Theology, Philosophy, Canon Law, and Social Sciences. The foundation of the Angelicum goes back to the XIII century (1265) medieval Dominican house of studies in Rome, where St. Thomas Aquinas taught friars in formation for the Dominican priesthood.

While many students are preparing for ordination to the priesthood or for a ministry in the Church, there is a rapidly growing number of lay students. All carry a commitment of dedication and service to the Catholic faith and the Universal Church.

Today the Angelicum remains committed to preserving the heritage of St. Thomas Aquinas as a vital force in theological and philosophical scholarship and in the teaching of classical Roman Catholic Theology. In Fall 2018, the university is opened the Thomistic Institute - Angelicum in order to promote the study of St. Thomas at the heart of the Church. This new institute will foster theological research and engagement with other philosophical and theological traditions, as well as contemporary sciences.
Grazie per la vostra generosità e le vostre preghiere!