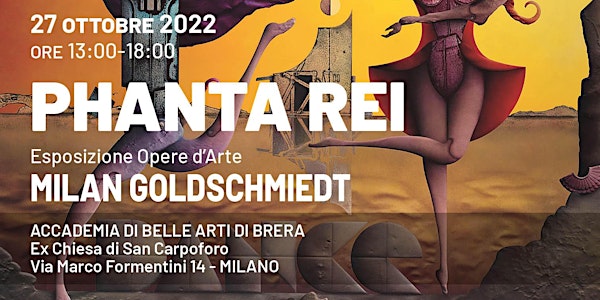 PHANTA REI by the artist MILAN GOLDSCHMIEDT
PHANTA REI exhibit by the Artist MILAN GOLDSCHMIEDT. Workshop art&music at the Brera Academy in Milan.
When and where
Location
Ex chiesa di San Carpoforo 14 Via Marco Formentini 20121 Milano Italy
About this event
Thursday 27 October 2022, from 13:00 to 18:00, at the former Church of San Carpoforo, via Marco Formentini n. 14 in Milan, the workshop/open lesson entitled PHANTA REI takes place, with the exhibition of 26 artworks by the artist Milan Goldschmiedt.
The event is organized by the Music and Musical Theater History Course of the Brera Academy of Fine Arts in Milan and the SOUNDART Master of the ARD&NT Institute (Brera Academy of Fine Arts and Politecnico di Milano), directed by prof. Roberto Favaro, in collaboration with the Ethicando Association of the art critic Marco Eugenio Di Giandomenico.
This is an interesting formative and aesthetic fruition moment, open to students and citizens, in which artworks by Goldschmiedt interact with the music by the violinist Yulia Berinskaya.
Guests have the opportunity to immerse themselves in the fantastic chromatisms and futuristic morphologies of the artist's artworks in an exciting musical bridging of considerable impact and experiential edification.
The event, which is part of the SUONO E ARTE fair of the Brera Academy, is also organized in collaboration with the Gli Amici di Musica / Realtà association, and is promoted by the international communication platform Betting On Italy (BOI), which has always been sensitive to media support for the best sustainable art initiatives.
For information:
ETHICANDO ASSOCIATION (www.ethicando.it)
E-mail: info@ethicando.com
************************************
Giovedì 27 ottobre 2022, ore 13:00-18:00, presso l'ex Chiesa di San Carpoforo, in via Marco Formentini n. 14 a Milano, si tiene il workshop/lezione aperta dal titolo PHANTA REI, con l'esposizione di N. 26 opere d'arte dell'artista Milan Goldschmiedt.
L'iniziativa, organizzata in collaborazione con Ethicando Association del critico d'arte Marco Eugenio Di Giandomenico, avviene nell'ambito del Corso di Storia della Musica e del Teatro Musicale dell'Accademia di Belle Arti di Brera di Milano e del Master SOUNDART dell'ARD&NT Institute (Accademia di Belle Arti di Brera e Politecnico di Milano), diretto dal prof. Roberto Favaro.
Un interessante momento formativo e di fruizione estetica, aperto agli studenti e alla cittadinanza, in cui le opere di Goldschmiedt dialogano con la musica della violinista Yulia Berinskaya.
Il pubblico ha l'occasione di immergersi nei fantastici cromatismi e avveniristiche morfologie delle opere dell'artista in un emozionante bridging musicale di notevole ricaduta ed edificazione esperienziale.
L'evento, che fa parte della rassegna SUONO E ARTE dell'Accademia di Brera, è organizzato anche in collaborazione con l'associazione Gli Amici di Musica/Realtà, ed è promosso dalla piattaforma di comunicazione internazionale Betting On Italy (BOI), da sempre sensibile a sostenere mediaticamente le migliori iniziative di arte sostenibile.
Per informazioni:
ETHICANDO ASSOCIATION (www.ethicando.it)
E-mail: info@ethicando.com