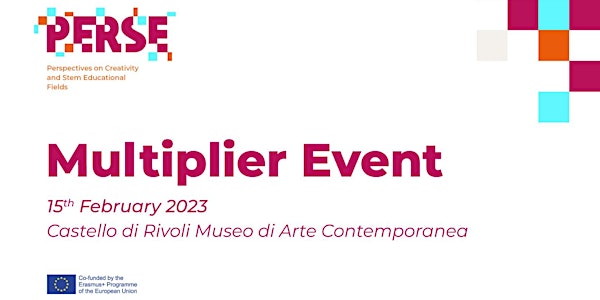 PERSE Multiplier Event
Future perspectives for STEAM Education: the result of the 2 years international project and the co-designed PERSE method in action.
Date and time
Wednesday, February 15 · 10am - 5pm CET
Location
Castello di Rivoli Museo d'Arte Contemporanea 2 Piazzale Mafalda di Savoia 10098 Rivoli Italy
About this event
PERSE MULTIPLIER EVENT
15th February 2023 | h 10 - 17
hosted by Castello di Rivoli Museo d'Arte Contemporanea, Rivoli (Turin, IT)
thanks to the Education Department
Are you an educator or a creative worker in one of these fields?
○ Science
○ Technology
○ Arts
Would you like to learn innovative tools in education? Do you believe in creative thinking as a way to foster a new mindset for future generations?
PERSE project is searching for participants to join the team in Turin for our Multiplier Event on future perspectives in STEAM education.
PERSE - PERspective on Creativity and STE(A)M Educational fields, co-funded by the Erasmus+ Program of the European Union, aims at developing and formalising a creativity-oriented pedagogical approach that overcomes the dualism among ART and STEM education. The project is focused on non-formal and informal education addressed to young people (15-29 years).
Our partners, from Italy, Greece, Portugal and France, will join all together for a Multiplier Event in Turin, hosted by Castello di Rivoli Museum of Contemporary Art.
Our method has been co-designed by all partners - along 2 years - around engagement, freedom, sharing, inclusion and well-being. We believe every learning is based on a multidisciplinary approach, personal experience, the opportunity to experiment and make mistakes, self-confidence and soft skills.
That's the reason why we combine Arts and Inquiry science based learning with the tools made available by new technologies and foster creative thinking as a tool of empowerment for local communities.
During the Multiplier Event in Turin, in the morning, we will retrace the most significant steps of the PERSE project, listen to inspirational speeches and discuss how to create synergies between the cultural, creative, STEM and educational sectors with different international stakeholders.
The afternoon will be dedicated to the piloting of our POP UP LABS with young people. At the same time, a session of online and offline networking will involve all the organisations interested in joining our EU Hub of Ideas, an international platform conceived to match education professionals and organisations with a STEAM pedagogical approach.
The event will be in English
EVENT PROGRAMME
Morning | Theatre
h 10
Welcome and introduction
Paola Zanini, Head of Dipartimento Educazione Castello di Rivoli Museo d'Arte Contemporanea
A PERSE point of view on STEAM Education
Lea Iandiorio, Project Manager Consorzio Kairòs
PERSE Toolbox
Inês Azevedo, Project Manager Casa da Imagem Fundação Manuel Leão
Informal digital learning environments
Margaret K. Chomatianou, Cultural Manager Inter Alia
h 11,30
Fabio Viola, Game Designer and Leading Curator Royal Palace of Venaria
Videogames as the tenth artform
Afternoon | Didactic rooms
For young people
h 14,00
POP UP Lab sessions
#1 Living reality between art and nature
#2 Murmaration: moving images in public spaces
Afternoon | Theatre
For organisations, museums, stakeholders, youth educators
h 14,00
Round table (online and offline)
How to create synergies between the cultural, creative, STEM and educational sectors to support the youth field
h 16,00
Conclusions and visit to the show Olafur Eliasson, Orizzonti tremanti
PERSE Partners:
Consorzio Kairòs - Casa da Imagem - D'Antilles&D'Ailleurs - Dipartimento Educazione Castello di Rivoli Museo d'Arte Contemporanea - Inter Alia - Social Hackers Academy - Sunrise Project
More informations on www.perse-method.org
About the organizer
Consorzio Kairòs è un luogo di sperimentazione di innovazione sociale e un ente generatore ed erogatore di servizi a elevato "capitale immateriale" per sviluppare nuove competenze per le cooperative ad esso associate. Si occupa di formazione continua, con una specifica attenzione al settore educativo con particolare riferimento all'outdoor education e al mondo STEAM.