Sales Have Ended
Registrations are closed
Thank you! You have been successfully registered to PERCEIVE Final Conference.
Sales Have Ended
Registrations are closed
Thank you! You have been successfully registered to PERCEIVE Final Conference.
Description
REMINDER: registrations will closer on 18 June at 12:00. You can still take part to PERCEIVE Final Conference by registering directly at the venue on 19 June, between 8:30-9:00.
---




Does Europe feel European?

Time to find out.
PERCEIVE project has investigated, in different European regions, how much citizens feel European and to what extent this is related to the implementation of the European Cohesion Policy.
During the final conference, the PERCEIVE team will share the research findings aiming to provide valuable insights to policy-makers, practitioners and other stakeholders from the European institutions, the PERCEIVE case-study regions and other Member States.
What will you hear about?

Findings on citizens' perception and identification with the EU

Facts on Cohesion Policy communication

Guidelines on Cohesion Policy communication and implementation
… but we also want to hear from you!
Participants will be invited to take part in the discussion, sharing their experience and shaping together an improved Cohesion Policy.
Registration will be open until 18 June 2019, 15.00.
Total seats available: 90.
The conference will be followed by a light lunch, offered to all participants.
Any question? Write to us.
finalconference@perceiveproject.eu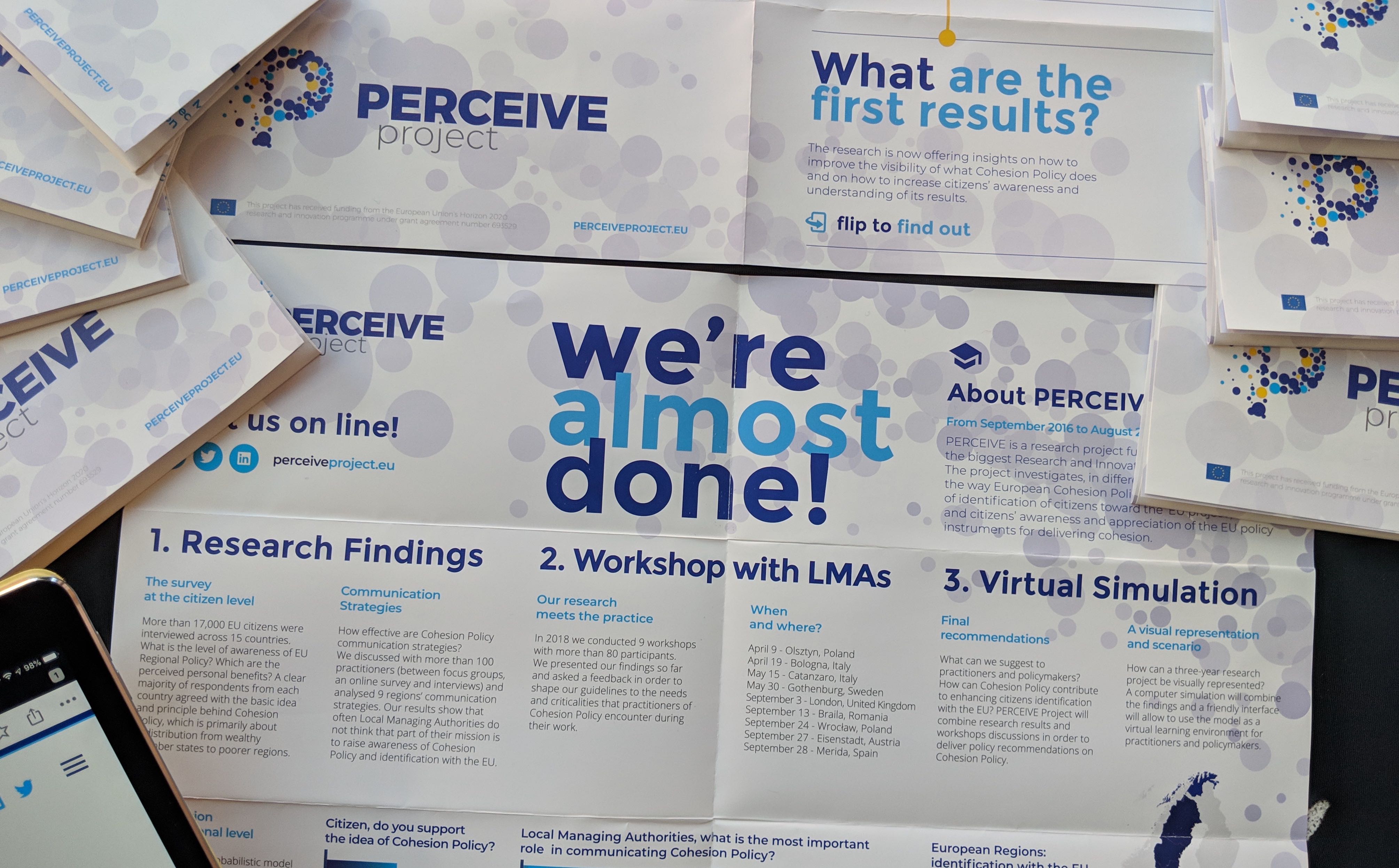 ---


Agenda
8:30 - 9:00 Registration
9:00 - 9:30 Introduction of PERCEIVE Project, participants and conference aims
9:30 - 10:30 Citizens' Perception and Identification with the EU: Empirical Evidence from PERCEIVE Project

Why do citizens' support Cohesion Policy? Identity, corruption and governance • Nicholas Charron & Monika Bauhr, University of Gothenburg
Citizens' perception of the Cohesion Policy and support to the European Union • Enrique López-Bazo & Vicente Royuela, University of Barcelona
Integrating Cohesion and Rural policies • Adam Cox, University of Portsmouth • Pawel Chmieliński, Institute of Agricultural and Food Economics - National Research Institute
10:30 - 11:00 Coffee break
11:00 - 11:30 Guidelines on Cohesion Policy Communication | PERCEIVE Evidence, Scenario analysis and Policy recommendations
Cristina Brasili, Giovanni Cunico, Eirini Aivazidou, Alba Marino and Edoardo Mollona, University of Bologna

11:30 - 12:00 Guidelines on Cohesion Policy Implementation | PERCEIVE Evidence, Scenario analysis and Policy recommendations
Giovanni Cunico, Eirini Aivazidou, Edoardo Mollona and Luca Pareschi, University of Bologna • Vitaliano Barberio, Vienna University of Economics and Business
12:00 - 12:20 Making cohesion policy more effective, relevant and visible to the citizens
Dana Spinant, Director of Communication, Budget & General Affairs, DG REGIO
12.20 - 12.40 Cohesion Policy communication and implementation: stimuli for debate
Adrian Teban, Committee of the Regions

12.40 - 13.30 Final round table and closure of the conference


The programme could be subject to changes.
---


Practical information
The conference will take place at the Office to the European Union of Emilia Romagna Region — Rue Montoyer 21, Brussels (Belgium).
Public transport
By metro • Closest metro station: Trone, line 2 and 6.
By train • Central Brussels station is 1,2 km away, 20 minutes by foot.
By bus • Buses from central station number 38 and 71, bus stop Troon.
Travel and accommodation
Participants must make their own arrangements for travel and hotel accommodation.

---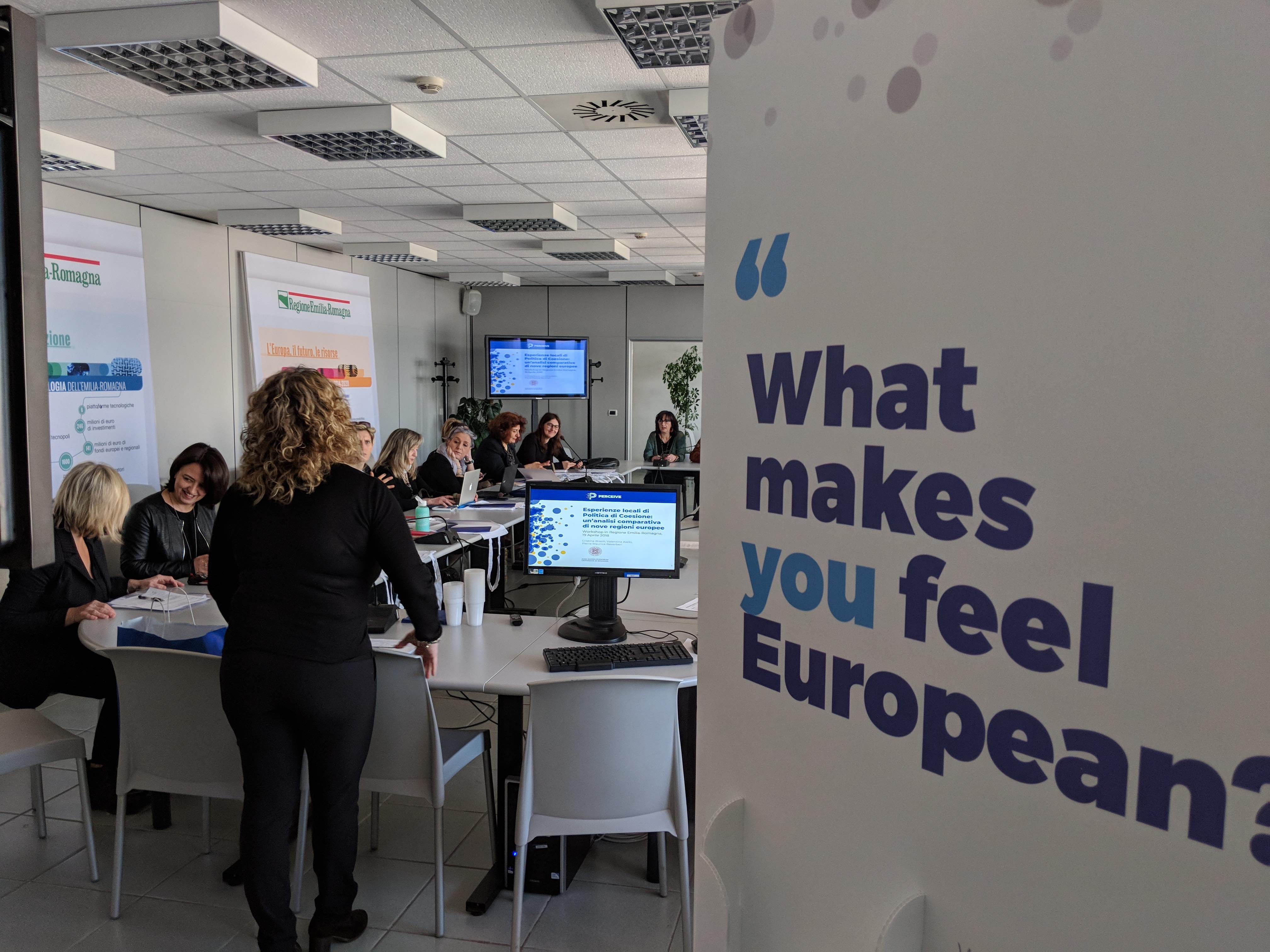 PERCEIVE project is funded by Horizon 2020 programme.
Are you familiar with it? Find out more about it.
www.perceiveproject.eu/about-the-project

For more information:

finalconference@perceiveproject.eu