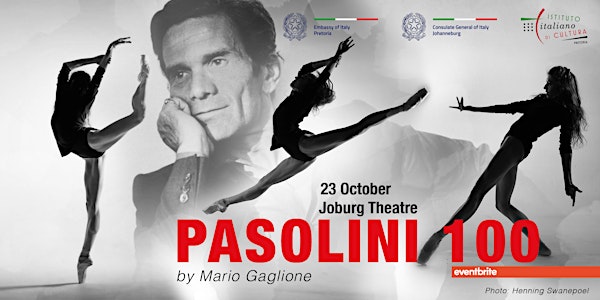 PASOLINI 100
The ballet celebrates 100 years of the birth of the writer, film director, poet and intellectual Pier Paolo Pasolini.
When and where
Location
Joburg Theatre 163 Civic Boulevard Johannesburg, GP 2001 South Africa
About this event
Pier Paolo Pasolini was one of the most controversial and intriguing figures of the Italian society of the second half of the 20th century.
His ideology and beliefs have long been at the centre of the public's attention because of his "scandalous" ways and "questionable" choices. Yet he is considered to this day one of the most brilliant minds of his time. His life, filled with obstacles, threats, trials and obscenities. His films, misunderstood, criticised and acclaimed internationally. His political views, against all standards of the Italian bourgeois class, remain a tough topic of debate that attract all audiences.
Decades after his assassination, this is a tribute to his ever-lasting legacy: a ballet that follows some of the pivotal points of his life, focusing on the way he viewed the world and its many perspectives, through the use of movement, dance theatre, video documentaries, and an overall intimate experience that brings the audience into close contact with the man.