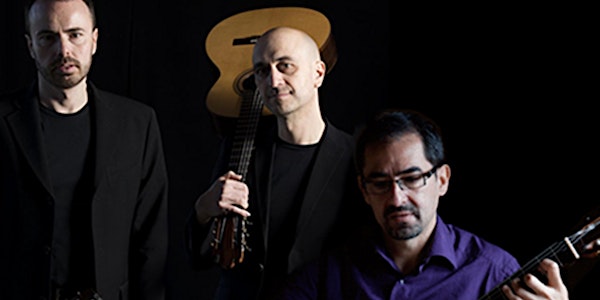 Pablo Marquez e SoloDuo(Matteo Mela e Lorenzo Micheli )
When and where
Location
Centro Sportivo Culturale Asteria 17 Piazza Francesco Carrara 20141 Milano Italy
Refund Policy
Refunds up to 30 days before event
Description
programma:
PABLO MARQUEZ – ECHI CATALANI
Fernando Sor (13 febbraio 1778 – 10 luglio 1839)
Six air de La Flûte enchantée de Mozart Op.19
Miguel Llobet (18 ottobre 1878 – 2 febbraio 1938)
Romanza
Gaspar Cassadó (30 settembre 1897 – 24 dicembre 1966)
Leyenda catalana, Catalanesca, Canción de Leonardo
Eduardo López Chavarri
(29 gennaio 1871 – 28 ottobrew 1970)
Sonata n°2 in D-minor
Moderato – Allegro, Andante moderato, Allegro vivace
SOLODUO (Matteo Mela e Lorenzo Micheli) – Omaggio a castelnuovo-tedesco
Mario Castelnuovo-Tedesco (3 aprile 1895 – 16 marzo 1968)
Les guitares bien tempérées op. 199
Preludio e Fuga n. 4 in mi maggiore
Preludio e Fuga n. 15 in la maggiore ("I hear America singing")
Ludwig van Beethoven
(17 Dicembre 1770[1] – 26 Marzo 1827)
Sonate pathétique op. 13
I. Grave – Allegro molto e con brio, II. Adagio cantabile, III. Rondò. Allegro
Mario Castelnuovo-Tedesco
Les guitares bien tempérées op. 199
Preludio e Fuga n. 23 in fa maggiore
Preludio e Fuga n. 24 in do minore
PABLO MARQUEZ
uno dei virtuosi più raffinati e versatili del suo strumento
Il chitarrista Pablo Márquez è considerato oggi come uno dei virtuosi più versatili del suo strumento. Oltre alle sue capacità di interprete di nuova musica, che applica regolarmente con rinomati ensemble quali l'Ensemble Intercontemporain, è molto apprezzato anche come interprete sia del repertorio chitarristico storico che della musica tradizionale di Salta, il suo luogo d'origine nell'Argentina nordoccidentale.
Pablo Márquez ha iniziato la formazione musicale all'età di 10 anni, eseguendo tre anni più tardi il suo primo concerto con l'orchestra di Salta. Prima di trasferirsi in Europa per approfondire la musica antica con Javier Hinojosa e la direzione con Eric Sobzyck, Rodolfo Fischer e Peter Eötvös, ha studiato con Jorge Martinez Zaráte e Eduardo Fernández. È attivo come artista free-lance e tiene concerti a livello internazionale, dopo aver vinto in gioventù il primo premio a diversi concorsi: il concorso internazionale di Radio France, il concorso di chitarra Villa-Lobos in Brasile e i concorsi di Ginevra e Monaco di Baviera.
Nella sua attività concertistica internazionale, ha incontrato diverse importanti personalità musicali. La sua carriera artistica è stata profondamente influenzata dal pianista ungherese György Sebök, con cui si è perfezionato, e dall'incontro con Dino Saluzzi cui Márquez si era rivolto per riscoprire le proprie radici nella musica argentina.
SOLODUO
"profound and unforgettable musicianship of the highest order" Washington Post
Matteo Mela e Lorenzo Micheli ("SoloDuo") formano uno dei duo di chitarre più attivi e conosciuti nel mondo: insieme hanno suonato in tutta Europa, negli Stati Uniti e in Canada, in Asia e in America latina, dalla Carnegie Hall di New York alla Konzerthaus di Vienna, dalla Sejong Hall di Seoul alla Sala delle Colonne di Kiev. Il "Washington Post" li ha descritti come "extraordinarily sensitive, with effortless command and an almost unbearable delicacy of touch".
La loro discografia comprende i Duos Concertants di Antoine de Lhoyer, le tre antologie "Solaria", "Noesis" e "Metamorphoses", un disco sulla musica del '600 italiano per tiorba e chitarra barocca ("La suave melodia", con Massimo Lonardi), una raccolta di opere da camera di Mauro Giuliani, le Sonate di Ferdinand Rebay, i 24 preludi e fughe di Mario Castelnuovo-Tedesco, i Trii op. 19 di François de Fossa (con Enrico Bronzi e Ivan Rabaglia) e un disco sulla musica vocale di Alessandro Scarlatti (con Massimo Lonardi e Renata Fusco), oltre a una decina di lavori solistici. Il loro ultimo lavoro discografico (2018) è dedicato alle " Sonate" di Beethoven in un'inedita versione per due chitarre.
Matteo Mela e Lorenzo Micheli sono "Artists in Residence" alla University of Colorado Boulder (dal 2015) e alla Columbus State University (dal 2017), e insegnano rispettivamente al Conservatoire Populaire di Ginevra e al Conservatorio della Svizzera italiana di Lugano.
www.soloduo.it