Sales Have Ended
Ticket sales have ended
The are no more available tickets. Thanks for your interest.
Sales Have Ended
Ticket sales have ended
The are no more available tickets. Thanks for your interest.
Description
Paul Tolchinsky is visiting Europe this Autumn.
What better time to learn from his relevant experience on the Organisation Design field?
The Org Design Week offers basic and advanced training events as well as a time to get to know Paul better and discuss with him about the topic, here the events: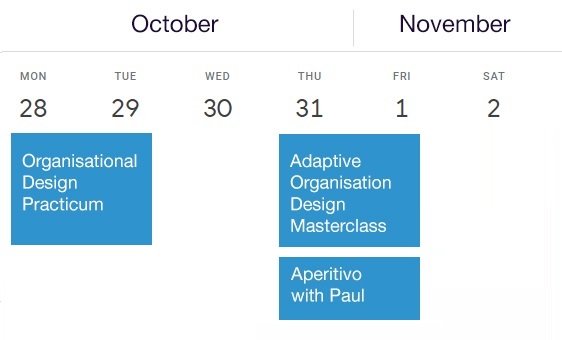 DISCOUNTS
Are you joining us all the week?
There is a special FULL WEEK PRICE for you, check the tickets!
Are you a company?
20% discount on any ticket reserved from the second participant and following ones.
Contact us directly for discounts.

Prices with VAT excluded, don't you have a VAT number?
Contact us directly for tax benefits.
---
OCT 28-29 | 10.00 - 18.00
ORGANISATIONAL DESIGN PRACTICUM

ROME | Via Vertumno, 2c - 00157 @CocoonPro HQ
BASIC LEVEL
To compete in today's business environment, organisations need to have the flexibility to adapt and the innovation to drive growth. We need tools to help speed the design or redesign process in organisations and to transform cultures quickly so that the system not only embraces change, but thrives on it.
In order to be successful in the current economic and social situation and build sustainability, organisations must be flexible, dynamic and innovative. Leaders need instruments in order to adapt processes and structures quickly to changed conditions and to develop the culture in a direction that not only accepts variations, but rather actively pursues innovation.

Organisations are "formed", consciously or unconsciously. Become along clear goals and principles so that the form itself is in support of the vision, values, goals and deliverables of the organisation.

This workshop gives you the theoretical underpinnings to engage a system, as well as the practical techniques to:
Unleash the potential in systems and eco-systems

Design structures that align on and execute strategy

Design organisational structures and processes that evoke a new culture that everyone yearns for

Create work that is interesting, meaningful and fun for people

Design the middle and the day-to-day work levels of a system

Design linking mechanisms that ensure coordination, integration, and organisational learning – including in distributed team environments

Choose and apply organising principles to intentional design

Apply systems thinking throughout the design process
An Organisation Design Practicum experience based, applied how to, make visible the process, and the choices, from simple to complex adaptive systems! How we engage with them, facilitate/guide and help them choose! How is this? What do you think? Practice whether you are experienced or new to the discussion!
---


OCT 31 - NOV 1 | 10.00 - 18.00
ADAPTIVE ORGANISATION DESIGN MASTERCLASS
ROME | Via Vertumno, 2c - 00157 @CocoonPro HQ
ADVANCED LEVEL
Our classic AOD Masterclass by Stelio Verzera this time in an amazing tandem with Paul Tolchinsky.
There is a growing interest in organisations that are able to cope with increasing amounts of unrelenting change, while keeping a clear strategic direction. Achieving this is not a matter of bringing some more "agility" to the existing organisation at any scale. In fact, it is about understanding and implementing a completely new concept of the organisation itself.
It is about putting the real system and the formal system in the right order of priorities, stop trying to fit the territory into our ideal map, and telling people they have to adapt to the organisational structure as it is "designed".
Here lies one of the most compelling revolutions we're undergoing globally: we're devising organisations that allow people to arrange the way they work together according to the needs of the situation and having the formal system adhere to the real one. In any given moment, the real structure is reflected by the formal one. And this is key for the maximum expressions of our ancient capability of dealing with complexity and variability as a unique whole.
Having the formal structure as a dynamic support instead of a burden in our way.
Making this possible is what Adaptive Organisation Design is all about.
About the workshop
In this Master Class we'll play with this concept, in order to deeply understand it, building it up so to be concrete and applicable in our professional lives.
PHASE 1
What and Why. Exploring and understanding what an Adaptive Organisation really is, why and when it is a good thing to pursue it and what are the principles behind it.
PHASE 2
How. Diving into the nitty-gritty of how on Earth it is possible to realize such an organisation, both from the human system perspective and from the organisation designer intervention perspective.
These are the main topics we will explore together:

Co-creation and the usage of full human potential

Complex adaptive systems

Evolution of human systems

Strategic inclusion of unknown unknowns

The usage of narratives in design

Unconscious knowledge and its usage in organisational design

Co-design process for adaptive organisations.



What will you learn
Who, why and how to involve in the design process

What and "adaptive organisation" really is

How to design for adaptiveness

How to craft and ask questions in the deep research of needs, desires and fears of the people in an organisation

How to cocreate adaptive organisations, to lay foundation for their excellent execution and navigate change in real time.
All in all, you will develop capabilities needed for engaging both your imagination and your intellect in approaching the setup of Adaptive Organisations with increased confidence, commitment and understanding.


Who is the perfect fit for this workshop?
Entrepreneurs

CEOs and General Managers

VPs of Strategy and/or Marketing

Heads of Division/Unit

HR Directors

Innovation Officers

Org Designers and Org Developers

Service Designers.


Facilitators
Paul Tolchinsky and Stelio Verzera.
---


NOV 1 | 18.30 - 21.00
APERITIVO WITH PAUL
ROME | Location shared with participants only
An occasion to meet and ask Paul Tolchinsky your questions regarding his experience and Organisation Design.
We'll meet in a nice place in Rome, from 18.30 to 21.00.
The location will be shared with participants only.

---
About Paul

Paul D. Tolchinsky, Ph.D.
Managing Partner, Performance Developtment Associates

Dr. Tolchinsky has been consulting to major corporations around the world for the past forty years. He has extensive experience in managing large system change efforts; new plant design and start-ups; redesigning organisations (both public and private sector); and employee involvement and participative work systems. Paul's expertise is in the design of systems, applying socio-technical systems principles to organisations. He has designed/redesigned production systems, new facilities, high tech organisations and broader eco-systems.
Paul is the pioneer of Real Time Work Design (Large Group Interventions by Bunker and Alban, Jossey Bass, 1997), an approach to work design that involves whole organisations (often up to 800-1,000 employees at a time) and the Whole-Scale™ Change technology mentioned in Fusion Leadership (Daft and Lengel, Berrett Koehler, 1998). He is the author of over 50 articles on organisation design and the co-author of two books on Large Group Methods entitled: Unleashing the Magic in Organizations: The Whole-Scale Approach and Unleashing the Magic: A Toolkit (2000). In recent years he has been an invited speaker and guest lecturer on the design of systems and the future of work in Europe, Australia, India, Brazil, Singapore and Hong Kong.
Paul's clients include the Siemens Power Systems (Germany), Continental AG (Germany), Miba AG (Austria), Knill Group (Austria), Eckes-Granini (Germany), General Electric Aerospace, Bank of America, Pratt & Whitney Engines (all USA), and Messier Dowty (Canada), to name just a few.
Paul is the Managing Partner of Performance Development Associates. In addition, he has taught graduate courses in Organization Behavior, Organization Design and Development at Webster University (Vienna), The University of Innsbruck (Innsbruck), The Technical University of Lisbon, (Lisbon) and The School of Inspired Leadership (Gurgon, India).