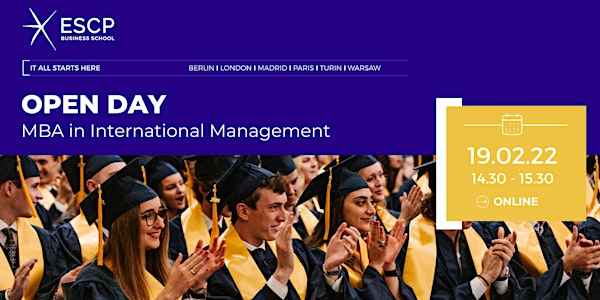 Open Day - MBA in International Management
Registrati e partecipa all'open day per saperne di più sull'MBA in International Management di ESCP Business School.
About this event
MBA in International Management Open Day
[A causa delle restrizioni legate all'emergenza Covid, l'evento si terrà unicamente online]
Online Open Day - Sabato 19 Febbraio - Ore 14.30
Registrati e partecipa all'Online Open Day per assistere alla presentazione dell'MBA in International Management tenuta da Veronica Polichetti, referente delle ammissioni e del programme office del campus di Torino.
Partecipando potrai ascoltare la testimonianza di un ex studente e interagire con i relatori attraverso la chat. Togliti ogni dubbio su requisiti, scadenze, opportunità professionali, borse di studio e molto altro durante la Q&A session.
Per ulteriori domande: mbaturin@escp.eu
Dopo la registrazione, riceverai una mail di conferma con tutti i dettagli.
---
MBA in International Management: Lead to shape the future
L'MBA in International Management di ESCP Business School è un MBA full-time della durata di 10 mesi che si svolge in due paesi europei a tua scelta tra Berlino, Londra, Madrid, Parigi, Torino e Varsavia.
Questo programma è rivolto a giovani professionisti con almeno tre anni di esperienza lavorativa post-laurea, laureati, sia di primo che di secondo livello, provenienti da qualsiasi facoltà universitaria che vogliano posizionarsi sul mercato del lavoro verso una carriera manageriale d'alto profilo internazionale.
Dall'approccio multiculturale ed altamente pratico, fornisce un'eccellente connessione con il reale mondo del business globale. Il curriculum dei partecipanti all'MBA è arricchito da esperienze internazionali fondamentali per ottenere un'elevata competitività nella sfera manageriale a livello mondiale tra cui lo svolgimento di progetti di consulenza aziendale reali ed è personalizzabile attraverso gli oltre 24 electives offerti in 7 paesi.