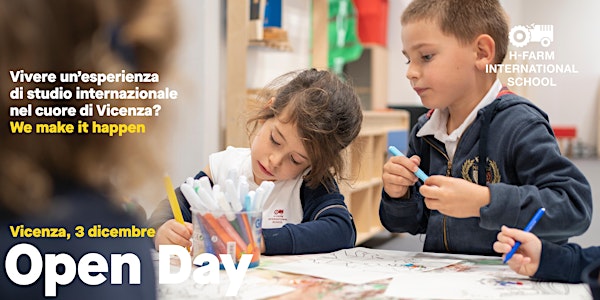 Open Day - Explore the H-FARM International School in Vicenza
Explore the H-FARM International School in Vicenza - 03/12/2022
When and where
Location
H-FARM International School Vicenza Borgo Santa Lucia, 51 36100 Vicenza Italy
About this event
Take part in H-FARM International School's Open Day: discover an engaging and stimulating learning environment!
Partecipa all'Open Day di H-FARM International School: una giornata per scoprire un ambiente di apprendimento coinvolgente e stimolante!
H-FARM International School Vicenza is the only school in Vicenza to offer the IB Continuum: the international pathway from Nursery to High School.
H-FARM International School Vicenza è l'unica scuola a Vicenza ad offrire l'IB Continuum: il percorso internazionale dai 2 ai 18 anni.
Future secondary school students will also have the chance to engage in some in class learning experiences and activities.
I futuri studenti delle scuole secondarie avranno anche la possibilità di impegnarsi in alcune esperienze e attività interattive di apprendimento in classe.
N.B. Tickets must be reserved for all the members of the family who will participate in the Open Day.
N.B. In fase di registrazione è necessario riservare i biglietti per tutti i componenti del nucleo familiare che parteciperanno all'Open Day.