OPEN DATA: Policies and experiences in Piedmont Friday 11th June - 09:00 AM - Study Visit DEAS - Data Economy Alps Strategy
About this event
OPEN DATA: Policies and experiences in Piedmont
Study Visit - Friday 11th June - 09:00 AM - 01:00 PM
DEAS - Data Economy Alps Strategy
Register to get the online event link.
Registration is free.
11th JUNE - ONLINE MEETING
OPEN DATA POLICIES AND EXPERIENCES IN PIEDMONT
AGENDA
09:00 - 09:15 AM
Online session opening and participant registration
09:15 - 09:20 AM
Welcome and introduction, agenda overview
09:20 - 09:30 AM
Video interview with the head of Tourism and Culture department of the Vercelli municipality
09:30 - 10:00 AM
Regional Public policies about Open Data (Regione Piemonte)Regional Open Data portal (dati.piemonte.it) and other tools for OD exploitation (Yucca platform) (CSI Piemonte)
10:00 - 10:30 AM
Local experiences, case studies and opportunities of Open Data exploitation in the Tourism and Culture sector – Osservatorio Turismo, Piemonte Outdoor and the Memora Project (CSI Piemonte)
10:30 - 10:50 AM
Round table: DEAS partners present themselves to the participant
10:50 - 11:00 AM
Coffee Break
11:00 - 11:30 AM
Experiences in sharing and exploiting Open Data in the cultural sector: data-driven opportunities for improving user experience and services for cultural heritage (Fondazione Torino Musei)
11:30 - 12:00 AM
Entrepreneurial case studies of Open Data valorisation in the cultural sector:competences, projects, opportunities and issues in developing business by exploiting OD (Synapta)
12:00 - 12:30 AM
Round table: Local Working Group members present themselves to the participants
12:30 - 12:45 AM
Q&A session and conclusion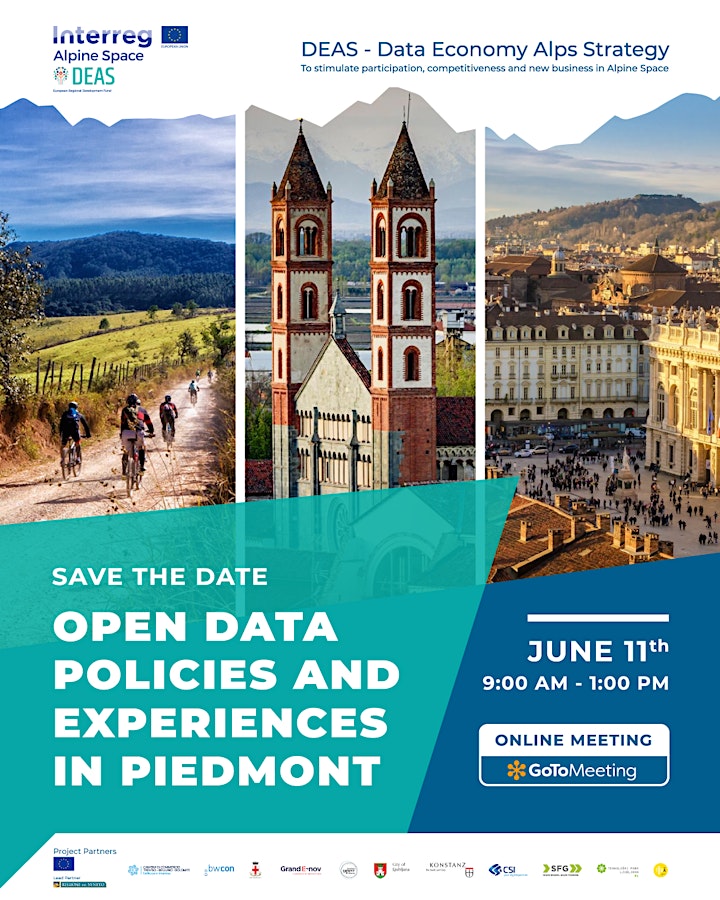 Organiser of OPEN DATA: POLICIES AND EXPERIENCES IN PIEDMONT
Il progetto DEAS ha l'obiettivo di utilizzare in modo efficace gli open data per sviluppare nelle aree alpine la data economy, un ecosistema digitale globale di raccolta, organizzazione e scambio di dati a fini economici. DEAS sfrutta i dati open per sviluppare nuovi prodotti e servizi sulla mobilità, l'ambiente e il settore del turismo, utilizzando API (Application Program Interface) che consentano di interagire direttamente con chi rende disponibili i dati.
Il progetto rientra nell'Interreg Alpine Space, il programma Spazio Alpino 2014-2020, che promuove la cooperazione e lo sviluppo sostenibile tra le regioni Europee nell'arco alpino.