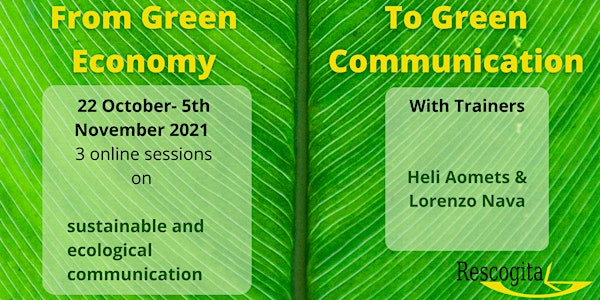 Online Training Course : "Green Communication in the time of Green Economy"
The world is moving towards a green and sustainable economy, and business as usual is changing, and so will our communication.
Refund Policy
Contact the organizer to request a refund.
About this event
We would like to offer this online training course concerning Green Communication applied to Green Economy. The past and present economic models set the grounds for what marketing, advertisement and generally business communication should like, with a focus on purchase, individual gain and goods consumption. The world is changing and so are customers, seeking more and more for responsibility, sustainability and values also in the every day purchase choices, and that is the direction where communication is going nowadays.
To this end our proposed course will be divided into two parts, with an eye on Internal Communication with colleagues and partners, and another on Outer Communication with the general public and customers. The content will include:
What is Green Communication and what it envisages and its purpose
Ecology in communication, your goals and those of the community and ecosystem
Setting up molecular communication
Identifying values and principles and apply them to communication processes
Applied social psychology's impact on communication
Self-determination theory applied to green communication
Practice, action planning and feedback
Timeline :
The course will kick off on 22nd October with a 2,5 hours introductory webinar then the main bulk will be developed on the weekend 29-31st October, and will conclude on 5th November with 2,5 hours webinar.
Training Team and Methodology applied
The methodology we will use will not be one of frontal lectures as our goal is to keep the learning process as horizontal, participatory and open as possible, to create a learning community. Learners will receive handouts on all the topics covered and will be entitled on a training certification from Rescogita.
Trainers will be :
Heli Aomets (EE), Systemic psychologist and System Theory Expert, consultant for local development processes and trainer.
Lorenzo Nava (ITA), Green Marketing and Customer's Journey Mapping expert, CEO of Rescogita trainer, coach and eco-guide.
No prior knowledge or experience in the fields above mentioned is required, we want to be as inclusive as possible and will get in touch before the start of the course to get to know your learning and development needs.