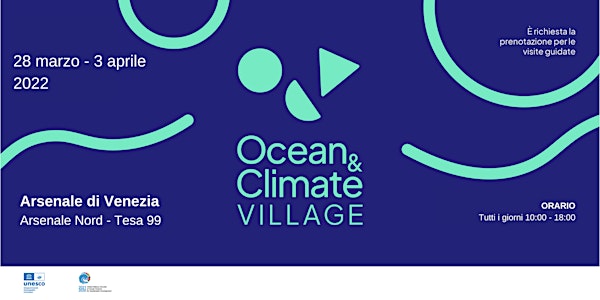 Ocean&Climate Village
La 2° tappa dell'Ocean&Climate Village, la mostra itinerante di IOC-UNESCO dedicata a oceano e clima, questa volta all'Arsenale di Venezia.
When and where
Location
Arsenale di Venezia, Arsenale NORD - Tesa 99 Castello 30122 Venice Italy
About this event
Dopo l'inaugurazione dell'Ocean&Climate Village a Milano, il mare arriva anche nella Laguna di Venezia. La seconda edizione dell'Ocean&Climate Village verrà ospitata negli spazi dell'Arsenale di Venezia.
Ocean&Climate Village è stato pensato nell'ambito del Decennio delle Scienze del Mare per lo Sviluppo Sostenibile con l'obiettivo di approfondisce tematiche legate alla stretta connessione tra oceano e clima. Oltre a essere uno spazio fisico, l'esibizione è anche una piattaforma di incontro che vuole promuovere dibattiti sulla salvaguardia degli ecosistemi e della biodiversità, la sostenibilità, l'innovazione e il design.
Ocean&Climate Village è un evento accessibile gratuitamente previa prenotazione ed è dedicato a famiglie, scuole e a un pubblico più generale.
Chi vorrà visitarlo potrà partecipare ai tour guidati che includeranno laboratori sviluppati in collaborazione con l'Università Ca' Foscari di Venezia, con l'Istituto di Scienze Marine ISMAR-CNR e con la vincitrice del Premio Donna di Mare 2022, Marta Musso. Le visite guidate saranno tenute da professionistə delle scienze del mare, suddivisi per target di età:
- Piacere sono Mediterraneo
- Un viaggio nell'oceano
- S.O.S Mare
- Missione: conoscere l'oceano
La mostra sarà arricchita da moltissimi contenuti e attività collaterali come talks, video, approfondimenti per riflettere su tematiche attuali legate alla salvaguardia dell'oceano e della città di Venezia.
La mostra dell'Ocean&Climate Village e tutte le attività integrate seguiranno le direttive Covid proposte dalle normative più recenti (entrata tramite Green Pass, obbligo di mascherina e distanziamento).
Informazioni organizzazione mostra
La mostra, realizzata dalla Commissione Oceanografica Intergovernativa e il Regional Bureau for Science and Culture in Europe dell'UNESCO, in collaborazione con The Playful Living, vuole celebrare e contribuire al successo delle attività del Decennio del Mare.
La mostra sarà ospitata all'Arsenale con la collaborazione del Comune di Venezia e molti altri sono i partner e gli enti accademici, di ricerca e privati che hanno sposato da subito l'idea dell'Ocean&Climate Village e contribuito in varie modalità, come l'Università Cà Foscari, IUAV, ISMAR-CNR, Corila, Università degli Studi Milano-Bicocca, E.ON, Prada Group, Panerai, Grifal, Style Piccoli, Venice Calls, WeRoad e National Geographic Italia.
Che cos'è il Decennio del Mare?
Le Nazioni Unite hanno dichiarato i dieci anni dal 2021 al 2030 "Decennio delle Scienze del Mare per lo Sviluppo Sostenibile". Questa iniziativa punta a mobilitare la comunità scientifica, i governi, il settore privato e la società civile intorno a un programma comune di ricerca e di innovazione tecnologica sulle scienze del mare per riuscire ad ottenere "L'oceano di cui abbiamo bisogno, per il futuro che vogliamo".
Firma il manifesto e resta aggiornato su tantissime altre attività sui nostri social (IG, FB) )e tramite il sito.
AGENDA EVENTO
Come arrivare all'Arsenale di Venezia -Arsenale Nord - Tesa 99?
Vaporetto: L'Arsenale nord è raggiungibile con le linee 4.1, 4.2, 5.1 e 5.2 (fermata ACTV "Bacini - Arsenale nord")
A piedi: dal Campo de La Celestia, attraverso la passerella lungo il muro di confine nord dell'Arsenale.