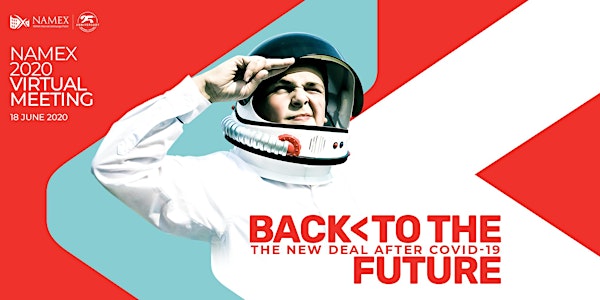 Namex Annual Meeting 2020
Description
We are glad to invite you to the upcoming Namex Annual Meeting 2020. The event will be held entirely online in accordance with the existing restrictions.
The schedule will be as follows:

During the morning we will have a plenary session; for all the information about the event you can check our dedicated website.
In the afternoon, we will host again the One-to-One meeting sessions, this time using a virtual formula.
One-to-one meetings are a great opportunity for all attendees to schedule bilateral meetings in order to build new business and technical relationships within the Namex community.
In this edition we are using Meeting Mojo. The registration is managed by the Namex staff and it will be processed after your registration on Eventbrite.
This year we are also organizing a workshop session, proposing a series of parallel webinars during the afternoon. We will provide soon details on this session.
Agenda
10.05-10.20 Introduction - Renato Brunetti

10.20-11.00 Keynote: The post-pandemic economy: why do we need a Digital New Deal? - Roberto Viola, Carlo Alberto Carnevale Maffè

The introductory session will discuss the impact of the crisis on the global economy and the consequences that COVID-19 may have on digital strategies and on a Digital New Deal.
11.00-11.30 Panel: Internet Exchange Points and Internet resilience - Maurizio Goretti, Yali Z. Liu, Akio Sugeno
The CEOs of some of the major European IXP will discuss about the recent dynamics regarding traffic and network usage, as well as the measures put in place to ensure resilience and lessons for the future.
11.30-12.00 Keynote: Smart Working and e-Learning: a first assessment of the COVID-19 emergency - Anna Ascani, Mariano Corso

Smart Working and e-Learning have benefited from no other forced mass experimentation. In this part, an initial assessment is made on the forced use of work and distance learning in terms of the extent of the phenomenon, the opportunities and critical issues emerged, but also the priorities to be addressed in order to capitalize on this experience and encourage an increasingly aware use of digital technologies.
12.00-12.50 Panel: Networks, information and data: what does the lockdown experience teach? - Maurizio Dècina, Stefano Epifani, Stefano Quintarelli, Antonio Nicita

The experts who will take part in the panel will discuss what could be the structural repercussions of the pandemic experience on the three key variables of the digital revolution, namely network development, information management and privacy.
12.50-13.00 Closing remarks
Gian Paolo Manzella
---
Afternoon Breakouts
13.00-19.00 Virtual One-to-One Time
Bilateral meetings
14.00-19.30 Workshop Session
Parallel webinars