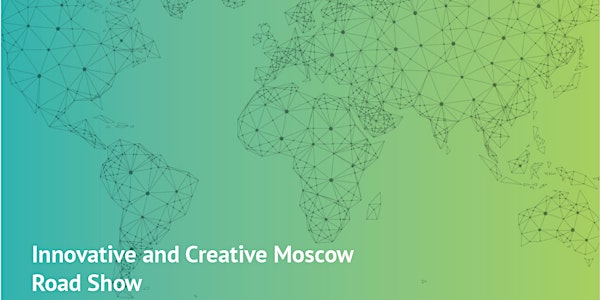 Moscow Innovation Roadshow
When and where
Date and time
Tue, 4 Jul 2017 14:00 - 18:00 CEST
Location
Trento via Tomaso Gar, 14 Dipartimento di Lettere e Filosofia, Aula 005 Trento Italy
Description
Il "Moscow Innovation Roadshow" è un progetto internazionale della Moscow Agency of Innovation che si
propone di concretamente coinvolgere studenti universitari e laureati europei di talento, startup e aziende
selezionate delle grandi aree metropolitane d'Europa nelle sfide dell'innovazione tecnologica e culturale che
si pongono sul suo territorio. Mosca investe in ciò importanti risorse economiche ed è sede di numerosi
importanti parchi tecnologici, companies e istituzioni culturali.
Gli interessati possono trovare esaurienti e dettagliate informazioni circa i contenuti del progetto, le sfide
urbanistiche e tecnologiche della città di Mosca, gli enti coinvolti, le call e le richieste di collaborazione
aperte al link http://opendoor.moscow

L'incontro con il mondo universitario trentino e i suoi talenti è previsto per martedì 4 luglio 2017, alle ore 14.00 in
aula 005 presso il Dipartimento di Lettere e Filosofia, via Tommaso Gar, 14 - I-38122 Trento.

Per ulteriori informazioni ed aggiornamenti circa il programma in dettaglio si veda il sito: http://webmagazine.unitn.it/evento/lettere/23729/moscow-innovation-roadshow

*English version*
The "Moscow Innovation Roadshow" is an international project promoted by the Moscow Agency of Innovation, which aims at:

-supporting the creation and the development of innovative infrastructures in Moscow
-attracting young talents and experts to Moscow
-creating a stimulating work environment and a competitive network of partners from all over the world

Details about the project and its related study and career opportunities are available here: http://opendoor.moscow/

Over the next months, the project will be presented in many European cities including Trento on July 4th at 2 p.m. at the Department of Humanities of the University of Trento
(room 005).
More infos: http://webmagazine.unitn.it/evento/lettere/23729/moscow-innovation-roadshow

Scientific Coordinator
prof. Renato Troncon

Contacts
info-drlab@unitn.it