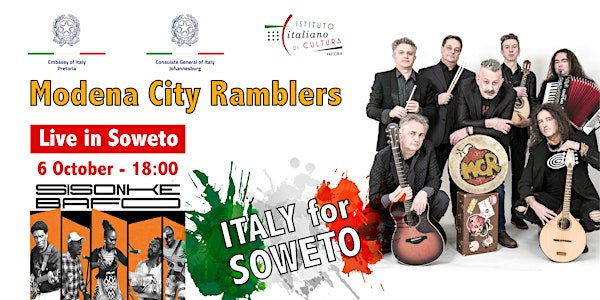 Modena City Ramblers Concert ITALY FOR SOWETO
The Modena City Ramblers are taking part with several performances in the WOMAD Festival South Africa, Peter Gabriel's annual festival.
When and where
Location
Uncle Tom's Community Centre. Kumalo Street Johannesburg, GP 1804 South Africa
About this event
The Modena City Ramblers, a famous Italian folk rock band founded in 1991 in the Emilia-Romagna Region, is taking part with different performances in the WOMAD Festival South Africa, Peter Gabriel's esteemed annual international festival. Italy for Soweto is the most important of these performances. In the seventies and eighties of the last century, Emilia Romagna was the epicentre of an influential strategy of solidarity with the liberation movements of South Africa, Mozambique and other countries in the region.
In line with this historic solidarity, and with the intention of cementing the collaboration between Italy and South Africa, the Embassy of Italy and the Italian Cultural Institute in Pretoria have organized the above-mentioned concert in Soweto, in which the Modena City Ramblers and the Sowetan group Sisonke Bafo will perform. Sisonke Bafo's music pays tribute to the quintessential 1985 album "The Indestructible Beat of Soweto", which served as the primary influence for several International artists.