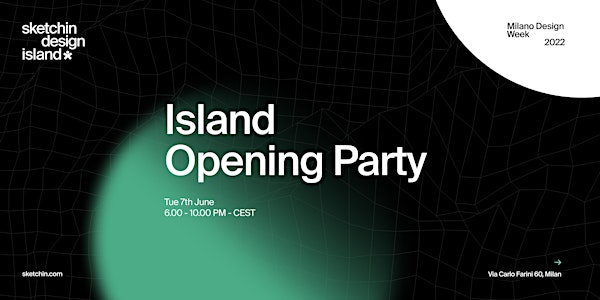 Milano Design Week | Island Opening Party
Our pop-up studio opens its doors to Design Week with a welcoming party dedicated to designers and professionals who are excited to meet us
When and where
Location
Via Carlo Farini, 60 60 Via Carlo Farini 20159 Milano Italy
About this event
Sketchin takes part in Milan Design Week for the first time in its history. A temporary and cozy space to facilitate ideas exchange, meet professionals and discover award-winning projects in a fascinating corner of the old Milan.
A dock right into Isola Design District to connect present and avant-garde in the building of shared meanings. An opportunity to get together and discover more about what makes us proud to do what we do so we can improve people's lives.
You'll have a chance to go deep into some of our best works, from digital ecosystems to hybrid retail, connectivity technologies, and public administration frameworks. Together with Fastweb, Flos, INPS, Lenovo, and Sogei our projects impact millions of individuals.
After all, what better place than an island for a bunch of pirates like us.
Program
18.00 Welcome
18.15 - Intro - Silvio Cioni, General Manager Milano
Sketchin takes part in Milan Design Week for the first time, showcasing projects, perspectives, events, and design ideas. Silvio introduces this new experience to the design community during one of the most important design weeks in the world.
18:20 - What's next - Luca Mascaro e Sarah Corti, CEO e CDO
Luca and Sarah share how the way of looking at design is changing in a world where boundaries between disciplines, industries, present, and future are blurred. Design is the best interpreter of technology and human needs: experience facilitator and magnifier of future exploration.
19.00 - Happy hour - Inauguration
Pop-up studio opening at Design Island. Beautiful people, award-winning projects and drinks for everyone excited to meet us.
How to participate
This is a private event. To get your invitation please register here.
English Language.
We'll be at the Sketchin Design Island pop-up studio.
Via Carlo Farini 60, Milano
Tuesday 7th June 2022 from 18.00 to 22.00 CEST.
We are looking forward to meeting you.