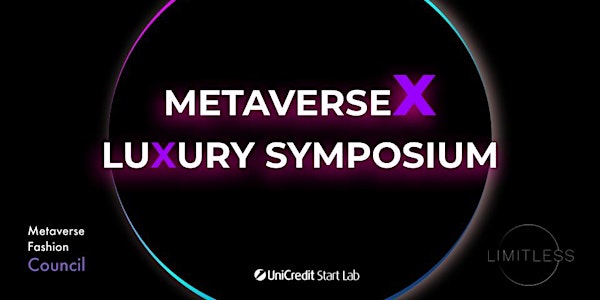 Metaverse X Luxury Symposium | Sold out
Connecting the best International Innovators with top global Luxury Brands. Exclusive physical event in Milan. By invitation only.
When and where
Location
Metaverse X Luxury Symposium Milan 20124 Milano Italy
About this event
Metaverse X Luxury Symposium is landing in Milan on the 26th of January, 2023 - the first Italian event joining Metaverse and Fashion, powered by Limitless Innovation and Metaverse Fashion Council.
The best International Web 3.0 Innovators will connect with top global Luxury Brands. You can expect:
- Selection of international scaleups: DressX (USA), The Fabricant (Netherlands), Threedium (UK), Ready Player Me (Estonia), The Dematerialised (UK), Dopplr (India), Bigthinx (USA), Another-1 (Singapore), Clo3D (South Korea), Customix (Italy), Astraverse (UK), Rooom (Germany), Emperia (UK), VSK SHANGHAI (China), Temera (Italy), Assist Digital (Italy) - with every speaker bringing his vision and contribution to the development of the future digital ecosystem.
- Innovators from the best global luxury brands & organizations: Tracey Mancenido (Tommy Hilfiger), Andrea Lorini (Luxottica), Remo Taricani (UniCredit), Marco Ruffa (PINKO), Massimo Paloni (BVLGARI), Stefano Rosso (OTB), Davide Gonzato (New Guards Group), Matthew Drinkwater (Fashion Innovation Agency), Nick Vinckier (Chalhoub Dubai), Blake Lezenski (Farfetch Outlier Ventures London), Stefania Valenti (Istituto Marangoni), and many more.
After the main event, at 7 pm, we are bringing to life the " Global Fashion Innovation EXPO" to experience the best tech solutions with 28 international startups and 150 business guests with fashion and lifestyle brands, investors, digital players, and more.
We begin in the fashion capital of Milan with our eye on major hubs — Dubai, New York, and Paris.