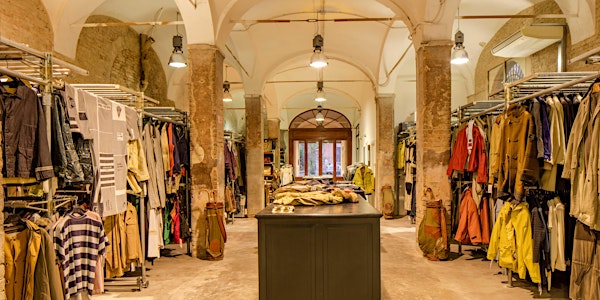 Multiple dates
MASSIMO OSTI ARCHIVE - private visit - English
Massimo Osti Archive opens his vast fabric and clothing private collections offering limited entry guided visit (max. 15 participants).
Date and time
Wed, 29 Jun 2022 14:30 - Mon, 12 Jun 2023 12:00 CEST
Location
Massimo Osti Archive Via Castelfidardo 7/2 A 40123 Bologna Italy
About this event
Massimo Osti Archive private visit: guided tour of the designer's clothing archive.
Massimo Osti Archive counts on a private collection of more than 5.000 garments, accessories, lab dip, fabric samples and extended library of magazine, books and prints.
The archive, set in Bologna medieval city centre, is the physical portfolio of Massimo Osti's work and the synthesis of his unique creative path.
The 300 square meters building hosts more than 5.000 pieces, from Osti's earlier prototypes to 60s Russian spacesuits, from garment dyeing lab dip to exclusive print patterns.
This extensive fabric and clothing library have been built in over 30 years of work and productive collaborations with more than 360 fabric companies and laboratories.
Beside a vast collection of pieces from the renowned brand as C.P. Company, Stone Island, you'll be able to discover something that can't be found in any other archive: exclusive and undisclosed project by Massimo Osti that, for several reasons, never saw the light. Spanning from futuristic visions of protective and technological apparels to electric cars and amazing collaborations with excellences from automotive industry, those projects are the proof of Osti's ability to work outside his comfort zone and to adapt his pioneering vision beyond fashion and apparel.
The 1h30 guided tour will introduce you to Massimo Osti Archive's heritage across a chronological journey through the most important stages of Osti's career path while disclosing the creation of his extraordinary fabric and style inventions.
The last 30 minutes will be dedicated to a brief question time for each participant to deepen specific topics.
---
Anti-Covid 19 measures
To access the visit it is mandatory:
Correctly wear FPP2 face masks during the visit.
Sanitize your hands at the entrance.
Personal data and temperatures registration.
Keep 1 meter of safety distance
Please arrive 10 minutes in advance