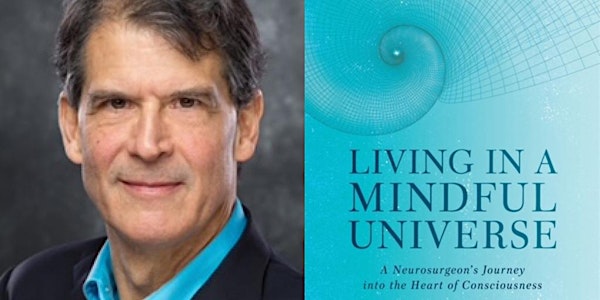 LIVING IN A MINDFUL UNIVERSE - Part 2 - Questions and answers (in inglese)
WEBINAR SERIES Share International in conversation
About this event
LIVING IN A MINDFUL UNIVERSE
A Journey into the Heart of Consciousness
*** We suggest to also view the FIRST PART of this fascinating interview:
https://www.youtube.com/watch?v=0JdW2qdChVo&t=320s
Part 2 - Questions and Answers
Saturday 29 October 2022
10:00 PDT – 13:00 EDT – 17:00 UTC - 18:00 BST – 19:00 CEST - 17:00 UTC
Dr Eben Alexander is one of the world's best known NDE-ers (Near Death Experiencers) and brings life-changing experience to all who hear him.
What is death? What's it like to die? Is it the end? Will I meet my loved ones? Have I lived before?
Share International takes an in-depth journey with Dr Alexander, exploring the wonders of an extraordinary but real world opening up to medical science and to anyone who is open to adventuring into new definitions of Life, Consciousness and Reality.
Dr Alexander is the author of the bestselling Proof of Heaven: A Neurosurgeon's Journey into the Afterlife, which recounts his near-death experience and his subsequent decision to research the nature of human consciousness. After decades as an academician and practicing neurosurgeon, he is now committed to reconciling his spiritual experience with contemporary physics and cosmology.
Share International, too, sees the universe as the expression of a Consciousness, a great Life in which all life forms are seen to have their own level of awareness and a unique role to play. Our information is that humanity stands on the threshold of a new cycle, waking up to a new definition of itself, its purpose, and its real nature. We maintain, coming from a background of the Ageless Wisdom Teachings and the work of esotericist Benjamin Creme, that consciousness is not dependent on the brain. Flowing from this basis we experience Life as One interconnected whole. Together with Dr Alexander we'll investigate new frontiers – probing higher states of consciousness, going beyond death to discover the meaning and purpose of Life and all our lives.
When last Dr Alexander and Felicity Eliot met on Share International in conversation, viewers had so many questions we were unable to answer them all in the time. Now, as promised, we continue where we left off. Both speakers will be answering your questions from their own backgrounds. Both approaches are pioneering: their ideas are creating a new awareness – the building blocks of a new civilization.
We are delighted to welcome Dr Alexander back on this journey into timeless but new realms in this webinar, part of our series: "Share International in conversation with..."
For an extensive overview of scientific research into the nature of consciousness, including near-death experiences, see the
Recommended Reading list on Dr Alexander's website
>>>>>>>
To register for this event:
https://us06web.zoom.us/webinar/register/WN_JTffmqyiQ-e3z-Cx4tpFYw