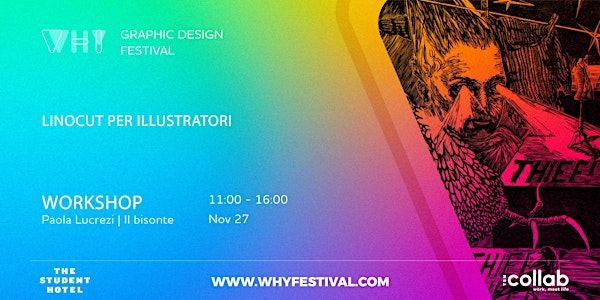 Linocut per illustratori con Paola Lucrezi dal Il Bisonte
LINOCUT: dalla tradizione all'illustrazione contemporanea.
When and where
Location
The Student Hotel 70 Viale Spartaco Lavagnini 50129 Firenze Italy
About this event
//scroll down for English
The workshop cost is 50 euro (registration fee included).
Il workshop costa 50 euro a testa (l'iscrizione incluso).
Reserve your place on Eventbrite for 10 euro, and pay the rest on the workshop day.
Prenota il tuo posto con 10 euro su Eventbrite, e paga il resto al momento del workshop.
LINOCUT: dalla tradizione all'illustrazione contemporanea
Derivata dalla tecnica più antica per la riproduzione dell'immagine: dalla Cina, dove è stata inventata 1800 anni fa è arrivata fino ad oggi senza perdere il suo smalto, la sua potenza espressiva e la capacità di far vibrare i colori come poche altre tecniche della grafica d'arte. Manifesti, tessuti, libri, opere d'arte, street art, gli esempi non si contano.la tecnica è semplice, immediata, ma scavare via la materia per trovare l'immagine ideata può essere una sfida; rimboccatevi le maniche, sguinzagliate la creatività, vestitevi male (si maneggia parecchio inchiostro) e … iscrivetevi!
- 4 ore di laboratorio pratico inclusa una breve panoramica sulle opere in circolazione.
- materiale incluso, vi portate a casa una matrice per stampare sulle vostre shopper.
Il workshop di Linocut è organizzato dalla Fondazione Il Bisonte, storica realtà fiorentina che dal 1959 si occupa di grafica d'arte; offre una grande varietà di corsi pratici; ospita artisti in residenza; organizza mostre ed eventi; possiede una biblioteca con più di tremila volumi e custodisce una collezione consultabile di più di cinquemila stampe.
per altre informazioni → info@whyfestival.com
---
LINOCUT: from tradition to contemporary illustration
Linocut derives from the most ancient technique to reproduce images: from China, where it was invented 1800 years ago, it has reached today without losing its strength, its expressive power and the ability to make colors vibrate like few other printmaking techniques. Posters, textiles, books, works of art, street art, the examples are countless. The technique is simple and immediate, but carving away the material to find the desired image can be a challenge; roll up your sleeves, unleash your creativity, dress badly (you will handle a lot of ink) and ... sign up!
- 4 hours of the workshop, with a brief overview of the works in circulation.
- material included, and you'll have a matrix to print on your tote bag.
The Linocut workshop is organized by the Il Bisonte Foundation, a historic Florentine atelier and school that since 1959 deals with printmaking; it offers a wide variety of practical courses; hosts artists in residence; organizes exhibitions and events; has a library with over three thousand volumes and holds a searchable collection of more than five thousand prints.
For more information → info@whyfestival.com