Description
LEVEL UP Rome Developer Conference comes back on 10-12 May 2019 and doubles up! Over 50 of the best developers in the video game industry, from 3 continents and 15 states.
A 3-day marathon of talks, workshops, panels and Lectio Magistralis on the most interesting topics in the field of video game, including machine learning, digital sculpting, VR, AI, AR, MMORPG, mobile, narrative design, copyright protection, serious game, alternative tech, programming techniques, Indies, procedural, inclusivity and much more!

3 simultaneous tracks
1 workshops area
1 academic area
1 portfolio review and recruiting area


---
TALKS - WORKSHOPS - PANELS
More than 50 about Game Design, Programming, 3D Arts, Production & Team Management, Business & Marketing.
Opening Keynote Unreal Engine and Investors' Panel.


---
LECTIO MAGISTRALIS
Free entry, in Sala Fellini, wide audience.


---
PORTFOLIO REVIEWS
Also in this edition, many of the speakers will be available for a PORTFOLIO REVIEW, offering a great opportunity for emerging developers who are looking for advice and feedback on their projects.


---
RECRUITING SESSIONS
There will be also recruiting sessions with one to one job interviews.


---
TICKETS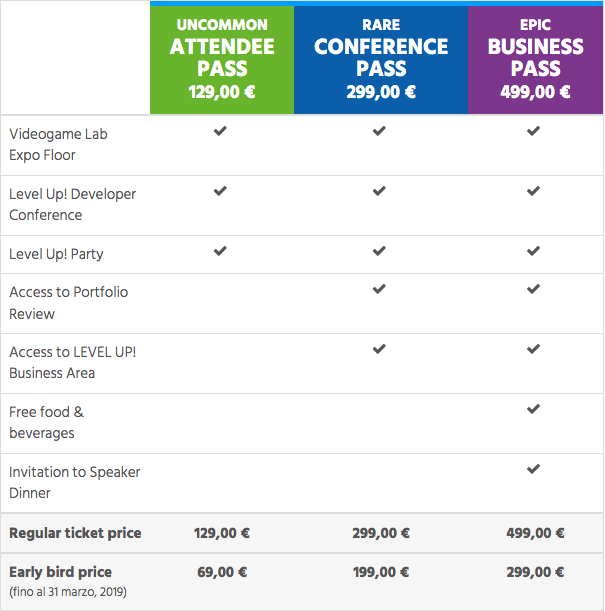 ---
PROMOTIONS

20% discount for University students - Students must show a valid student card at the entrance.
Discount for students of Schools of Video games - Students interested must ask for the promo code at their school or to info@aiv01.it and send a valid certificate.
AIV students and Alumni: students interested must ask the promo code to info@aiv01.it


---