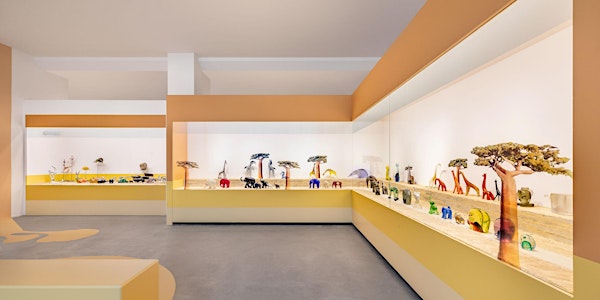 Multiple dates
L'Arca di vetro. La collezione di animali di Pierre Rosenberg
L'Arca di vetro. La collezione di animali di Pierre Rosenberg
Date and time
Sat, 15 May 2021 10:00 - Mon, 1 Nov 2021 19:00 CEST
Location
Le Stanze del Vetro Isola di San Giorgio Maggiore 30124 Venezia Italy
About this event
Italiano
[For English, please scroll down / per l'inglese, scorri in basso]
__________
L'Arca di vetro. La collezione di animali di Pierre Rosenberg
aperto tutti i giorni - chiuso il mercoledì
ore 10 - 19
ingresso gratuito
__________
PRENOTAZIONE CONSIGLIATA
Procedi cliccando sul pulsante arancio SELECT A DATE, quindi TICKETS per selezionare il giorno e l'orario di ingresso.
I referenti di gruppi organizzati sono invitati a non utilizzare questo canale ma a prendere contatto via mail info@lestanzedelvetro.org
VISITE GUIDATE GRATUITE, ALTRE ATTIVITA' PER FAMIGLIE
Gratuite, durata 1 ora circa.
Per prenotare una visita guidata o altra attività, NON utilizzare questo sito:
- per i giorni feriali, contattaci con almeno 2 giorni di anticipo QUI.
- per richiedere una visita guidata last minute sabato e domenica, scrivici via mail info@lestanzedelvetro.org
__________
ACCESSO IN SICUREZZA
Dal 6 agosto 2021, nel rispetto della normativa vigente, per accedere a LE STANZE DEL VETRO il visitatore dovrà esibire il certificato EU Digital Covid ("Green Pass"). La Certificazione Verde Covid-19 (Green Pass) garantisce che la persona è stata vaccinata contro il Covid-19, ha ricevuto la prima dose del vaccino, è guarita da Covid-19 o ha ottenuto un risultato negativo al test molecolare/antigenico nelle ultime 48 ore. Per maggiori informazioni: QUI
Per la sicurezza e salute di tutti, vi preghiamo di:
– Indossare una mascherina che copra naso e bocca per proteggere voi stessi e gli altri
– Mantenere la distanza di sicurezza dagli altri visitatori
– Igienizzare le mani all'ingresso
– Riprogrammare la vostra visita se avete sintomi influenzali o riconducibili al COVID-19
__________________________________________________________________________________________
__________________________________________________________________________________________
English
__________
The Glass Ark. Animals in the Pierre Rosenberg Collection
Open every day (except on Wednesday) from 10am until 7pm
Free admission
__________
BOOKING IS RECOMMENDED
Please click "SELECT A DATE", then click "TICKETS" to choose your entry time.
FREE GUIDED TOURS AND EDUCATIONAL ACTIVITIES
Guided tours can be booked every day (except on Wednesdays), at least two days in advance before the requested date. For information or to book your guided tour, please fill the form available here - LINK
__________
As of August 6, 2021, all visitors from the age of 12, must present a Covid Certificate (Green Pass) to access LE STANZE DEL VETRO. A Covid Certificate is a proof that a person has either been vaccinated against Covid-19, or received the first dose of a vaccine requiring two, or recovered from Covid-19, or received a negative test result in the previous 48 hours. For more information: LINK
For everyone's health and safety, please:
- always wear a mask covering your mouth and nose for the protection of yourself and others.
- keep a safe distance apart from others during your visit.
- sanitize your hands at the entrance.
- do not visit us if you are feeling unwell or should you have COVID-19 symptoms.
__________________________________________________________________________________________
__________________________________________________________________________________________