Programmare il proprio robot ad andare dove vuoi, a trovare gli ostacoli, a seguire una riga, e a fare lampeggiare le luci LED! 9 -12 anni.
About this event
10 incontri full immersion di tecnologia toccando gli argomenti più importanti nel mondo della robotica.
Ogni partecipante riceverà un robot da portare a casa alla fine del corso.
Perché iscrivere suo figlio/figlia a questo corso?
Imparerà le basi della robotica con un esperienza "hands-on".
Coding, se viene fatto con un robot, è un attività molto stimolante perché l'esito del programma può essere visto dal vivo, nel comportamento del robot stesso.
Capirà che cosa sono i motori, i sensori e le luci LED e come programmarli.
Le lezioni verranno svolte in italiano e in inglese, focalizzando soprattutto sul lessico tecnologico. Così gli studenti possono migliorare il loro inglese.
CodEng ha più di mille ore di esperienza insegnando coding e robotica.
Requisiti
Il corso è adatto agli studenti della scuola media. 
Serve un pc con il software "Crumble" installato. Si trova su questo link: https://redfernelectronics.co.uk/crumble-software/
Al momento dell'iscrizione, i genitori autorizzano al trattamento di foto e/o video ai fini della didattica, ai fini educativi ed alla promozione pubblicitaria delle attività svolte da CodEng.  
Il pagamento di €250 iva incluso si fa via bonifico bancaire direttamente a: 
Derval Anne O'Neill 
IBAN IT86G0306234210000000924248 
Attenzione: Per favore, per confermare il vostro posto, il pagamento di €250 deve essere effettuato entro 3 giorni lavorativi della sua prenotazione, se no, la prenotazione verrà cancellata. Grazie della vostra comprensione. 
Recensioni: 2020 Robotics summer code camp course feedback:
"Una sola parola: entusiasMENTE!!!" - mamma di Diego
"Una esperienza formativa unica e particolare per introdurre i ragazzi nel mondo delle nuove tecnologie, per comprenderle ed esplorarle da protagonisti e non da semplici utenti!" papà di Lorenzo
"..ci ha stupito più che positivamente la ricchezza, la qualità e la quantità di contenuti che sono stati offerti ai ragazzi in modo comprensibile ed estremamente attuale. Questo corso ha permesso a nostro figlio di conoscere serenamente ,tramite le parole di una docente preparatissima, il mondo della cybersecurity , di internet, delle app...robotica .etc.. ..bello vederlo imparare con interesse e curiosità.Ottima l'idea di far costruire con le sole proprie mani il robot, è stato formativo e soprattutto gratificante per nostro figlio." mamma di Gabriele
"Mi è piaciuto, è stato bello , ho imparato molte cose che non sapevo ...è stata la prima volta che ho costruito un robot e non pensavo di riuscirci da solo ! Gabriele
"..a parer nostro l'iniziativa è stata molto valida perché nostro figlio Lorenzo si è sentito molto coinvolto in ogni attività, da quelle ludiche (kahoot) a quelle pratiche (robotica) e persino da quelle più informative che lui personalmente ha trovato molto interessanti. È stata anche una bella occasione per sviluppare delle life skills utili per il futuro in un eventuale lavoro in ambito informatico ma spendibili anche nella vita di tutti i giorni , come ad esempio il problem solving e la capacità di affrontare le difficoltà con pazienza e perseveranza. Quindi ottimo lavoro! Grazie di cuore." genitori di Lorenzo
"..my children were happy and proud to have been part of it. Thank you" papà di Giovanni e Andrea
CodEng - "Learn to Code, Practise your English" P.IVA 03575100122
email: coding@codeng.eu - prenota una prova gratis oggi!
cell 349 703 4697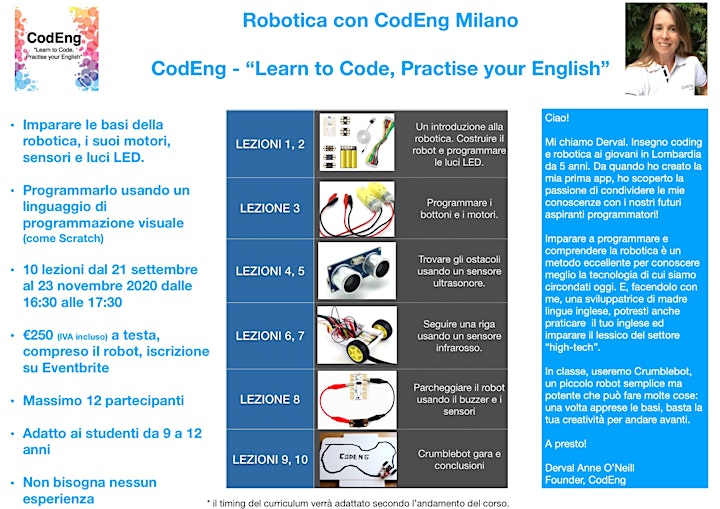 Organiser of La Robotica con CodEng Milano - "Learn to Code, Practise your English"
CodEng è stato fondato 5 anni fa a Varese. Ha come scopo di rendere i giovani entusiasti del mondo tecnologico e della voglia di acquisire le competenze digitali. Offriamo lezioni di coding e robotica nelle scuole in zona e dopo scuola a Varese in centro città e ad Ispra. Durante l'estate organizziamo campi estivi. 
CodEng was founded 5 years ago in Varese with the objecitve of instilling a sense of enthusiasm in young people about the technology that surrounds them and encourage them to acquire digital skills. We offer coding and robotics classes in schools in the area and after school in Varese town centre and in Ispra. During the summer, we organise summer camps.