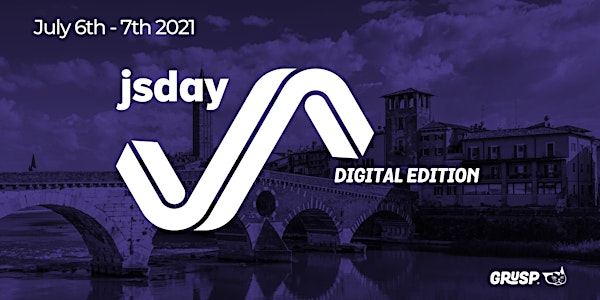 jsday 2021 Digital Edition
jsday 2021 is happening online on July 6th and 7th, 2021
About this event
jsday 2021 Digital Edition
Connect with the Italian and International JavaScript Community: meet us online on Tuesday 6th and Wednesday 7th July 2021
👉 The DIGITAL conference will be accessible only to registered participants. It will be held on Hopin, a virtual venue in which you'll be able to:
watch the live streaming and learn from top-notch speakers;
ask questions to speakers and interact with them;
chat and talk with other attendees, interact and make connections.
🎯 TALKS AND SPEAKERS
Coming soon!
🧑‍🏫 WORKSHOP "Front-end testing on steroids with Cypress"
Workshop in Italian language with Stefano Magni. Online, on July 13 th and 15th 2021.
L'obiettivo del corso è quello di fornire le informazioni di base, i principi e alcuni consigli dati dell'esperienza, per entrare nel mondo delle metodologie di testing. Testare le proprie web-app è molto più facile e profittevole di quanto si possa pensare. Questo corso serve ad oltrepassare gli ostacoli iniziali e a capire come trarre un vantaggio immediato dai test, non solo nel medio e lungo periodo. Trovi tutte le informazioni e il programma dettagliato sul sito.
🎫 TICKETS AVAILABLE
"jsday Digital Edition Ticket" gives you access to the live event on July 6-7th and to all the recorded contents.
"Workshop Front-end Testing + conference" gives you access to the workshop (in Italian language, on July 13 and 15th) and to the conference.
"GrUSP 2021 SEASON PASS". a Golden Ticket that gives you access to all of our 2021 virtual events. See below the full list. 
🌈 SCHOLARSHIPS
We have a scholarships program: you can apply for a free ticket if you are a member of under-represented groups in technology - women, minorities, LGBTQIA+, people with disabilities, or other under-represented groups.
🔎 SPONSOR
If you are interested in sponsoring the event, you can find all the relevant information on the website.
🤝 PARTNERS
Are you an organizer of a JS community and would you like to be our partner? Read our presentation here (bit.ly/GrUSPPartnership-ENG) and request the partnership by filling this form (bit.ly/BecomeGrUSPPartner).
🔔 ABOUT JSDAY
The conference is organized by GrUSP, creators of events like phpday (and many others). 
You can find videos from past editions on GrUSP's channels: Vimeo - Youtube.
Follow jsday on Facebook and Twitter.
You can find GrUSP on Instagram, Linkedin, YouTube, Vimeo, Facebook, Twitter, Slack.
Subscribe to GrUSP newsletter: bit.ly/grusp-nl
❓FAQ
The tickets are not refundable.
INVOICING: you'll receive an email with the instructions after the purchase.
If you are a student, or you need to buy multiple tickets (at least 5 tickets of any kind), send a mail to info@grusp.org for a discount.
The tickets are nominative: you can change the name on it until a week before the event.
The event is organized and sold by Apropos, on behalf of GrUSP.
CONFERENCES INCLUDED IN "GrUSP SEASON PASS"
You'll get access to the upcoming events, and the recordings of the past ones: