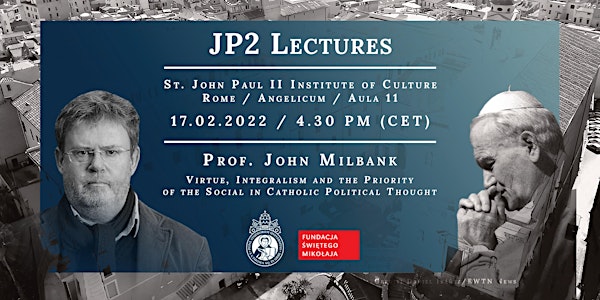 JP2 Lecture // Prof. John Milbank: Virtue, Integralism and the Priority...
Location
Pontificia Università di San Tommaso d'Aquino - Angelicum
1 Largo Angelicum
00184 Roma
Italy
JP2 Lecture // Prof. John Milbank: "Virtue, Integralism and the Priority of the Social in Catholic Political Thought"
About this event
On Thursday, February 17, we invite you to the next lecture of the 2021-22 "JP2 Lectures" series, organized by the St. John Paul II Institute of Culture at the Angelicum, which will be given by Professor John Milbank (University of Nottingham).
The lecture titled "Virtue, Integralism and the Priority of the Social in Catholic Political Thought" will start at 4.30 PM (CET) in Aula 11, at the Angelicum (address: Largo Angelicum, 1, 00184 Roma).
There is huge confusion round the words 'Integralism' and 'integral'. Neo-scholastics today returning to Integralism are the very people who tend to oppose the integral unity of nature and grace! In consequence, they confuse an integral political order with theocracy and church authority with church power. Yet the rejection of 'pure nature' and a Thomistic insistence after Servais Pinckaers OP that true virtue derives from divine gift and our exercise of fraternal gift-exchange as immediate duty, besides accumulated habit (overcoming the Aristotelian tension between public justice and private magnanimity), implies a different and more radical and genuine, although more tempered Integralism: the only measure of a truly just politics is its enabling of the communion of charity. But can mere liberal democracy do that and can it prevent a slide into authoritarianism, today ever more prevalent? If the social as community and site of reciprocity has priority over the political and the economic, does not that imply their specific reconfiguring, as more envisaged by CST in the Nineteen-Thirties? It may be time to ask once more whether subsidiarity implies distributism and corporatism, and whether solidarity and dignity imply a society of 'estates' and 'orders' in a reconfigured sense, besides Aristotelian mixed government, rather than pure democracy. Today we need to re-echo Max Scheler (such a big influence on John Paul II) and Emmanuel Mounier, in asking what a specifically 'Christian Socialist' or 'Christian Sociological' politics and economics might imply. Also following John Paul II, we need to think more about how a correct Catholic internationalism can be matched by an integral incarnation of Catholicity within specific national and local cultures. The strange alliance of an ultramontanist and over-centralised church (as Pope Francis perceives) with liberalism and laicite within nations no longer looks sufficient and has contributed to Christian decline.
Professor John Milbank – born in 1952 in Kings Langley, England, is an English Anglican theologian and Emeritus Professor in the Department of Theology and Religious Studies at the University of Nottingham, where he is President of the Centre of Theology and Philosophy. He is the most prominent representative of the trend of thought known as Radical Orthodoxy. A characteristic feature of this movement is the crossing of the conventional boundaries between theology, philosophy, political and social theory.
__________________
Please note that due to the ongoing COVID-19 pandemic, to take part in the lecture you are required to show a valid Green Pass or a negative test result for coronavirus. We also ask the participants to respect the sanitary procedures and cover their mouth and nose with a mask.
The lecture will be delivered in English.
The lecture will also be broadcast live: https://youtu.be/bd2JcXhW7dU
___________________
The monthly open "JP2 Lectures" given by scholars from around the world are offered by the St. John Paul II Institute of Culture at the Faculty of Philosophy at the Pontifical University of St. Thomas Aquinas – the Angelicum in Rome, the Roman Alma Mater of fr. Karol Wojtyła. The guest speakers in the 2021-22 "JP2 Lectures" series are: John, Lord Alderdice, Jean-Luc Marion, George Weigel, Andrea Riccardi, John Milbank, Carl A. Anderson, Ewa Thompson, Bishop Robert Barron (tbc.), and Stanisław Grygiel.
The lecturers in 2020-21 were: Cardinal Gianfranco Ravasi, John Finnis, Bp Rowan Williams, Marek A. Cichocki, John Cavadini, Francois Daguet O.P., Chantal Delsol, Rémi Brague, Renato Cristin, and Dariusz Gawin.
Video recordings of all the previous lectures are available here: https://www.youtube.com/playlist...