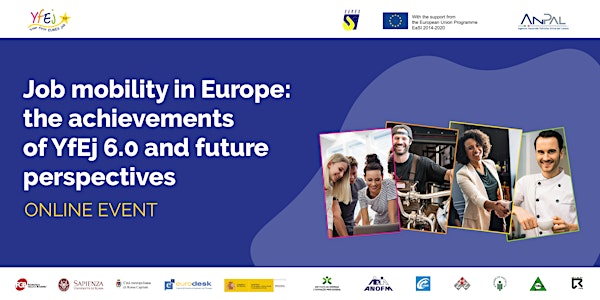 Job mobility in Europe: the achievements of YfEj 6.0 and future perspective
Job mobility in Europe: the achievements of YfEj 6.0 and future perspectives
About this event
ANPAL - Agenzia nazionale per le politiche attive del lavoro - EURES National Coordination Office is glad to invite you to the final event of Your first EURES Job, which will be held online on 21 April, from 9:00 to 13:00, through the Zoom platform.
Your first EURES Job (YfEj) is a project funded under the EaSI 2014-2020 programme. YfEj supports the job mobility of young people between the EU Member States, Norway and Iceland. It is coordinated by the EURES National Coordination Office and implemented in cooperation with 12 Italian and European co-applicants (Fondazione Giacomo Brodolini, Città metropolitana di Roma, Eurodesk Italia, Sapienza Università di Roma, EURES Romania, EURES Croatia, EURES Bulgaria, DIAN Greece, EURES Netherlands, EURES Portugal, EURES Spain, EURES Cyprus), 1 affiliated organisation (Capitale Lavoro) and 14 associated organisations (EURES Finland, Poland PES, Unioncamere and the whole Italian EURES network).
During the event, the results achieved in this edition of YfEj will be presented, as well as the outcomes of the activities carried out, with a particular attention to pilot actions and specific researches carried out in order to increase the quality of the professional mobility experiences.
Thank you for your interest in the YfEj6.0 final event supported by EaSI programme.
Before proceeding with the registration, read carefully the privacy conditions and be aware that your registration will be considered as a clear affirmative action for the processing of your personal data as specified here . In particular, consider that registering in this event you accept to transfer your personal data to the external contractor of European commission responsible for the monitoring of the EaSI programme.
If you do not agree with this processing please do not continue the registration in this event.