IT SOLUTIONS & SUPPLY CHAIN

Friday, March 23, 2012 from 3:10 PM to 7:00 PM (CET)
Event Details
IT SOLUTIONS & SUPPLY CHAIN
Strumenti tecnologici al servizio della supply chain
in un binomio di eccellenza e di efficienza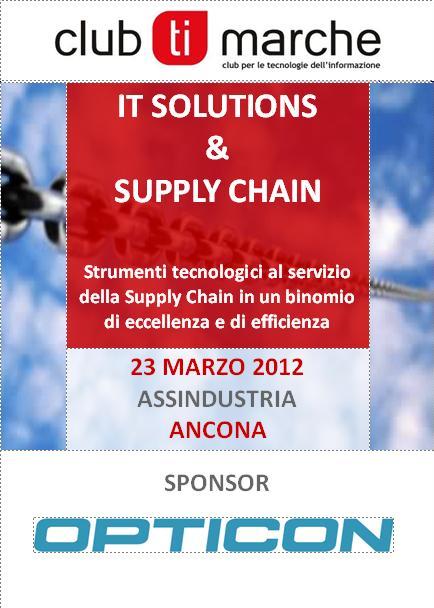 In un contesto di globalizzazione dei sourcing e di  limitatezza di risorse finanziarie, obiettivo strategico di tutte le aziende è concretizzare una riduzione di costi ottimizzando i processi per migliorarne l'efficacia e l'efficienza. Si pone quindi l'esigenza di poter gestire la filiera del valore anche e soprattutto grazie a soluzioni tecnologiche in un'ottica di eccellenza.

Nell'ambito di questo evento ClubTi Marche si pone l'obiettivo di analizzare lo stato dell'arte della supply chain in un'ottica di gestione dell'informazione lungo la filiera, presentandone scenari, criticità e soluzioni tecnologiche efficaci.
23 marzo 2012 alle ore 15:30 nella sede di Confindustria di Ancona, via Roberto Bianchi, 60131 Ancona.

Ulteriori informazioni e aggiornamenti su www.clubtimarche.it
SPONSOR : Opticon e IBM-VAR GROUP

MEDIA PARTNER: "Logistica" - Tecniche Nuove Edizioni
PATROCINIO: FIDAInform - Controller Associati - Mondo HR - Mappe del Pensiero

N.B. La registrazione all'evento da parte di ogni partecipante concede al ClubTi Marche la liberatoria  per l'utilizzo e per la pubblicazione delle proprie immagini in forma gratuita per i seguenti utilizzi:
contributi fotografici e/o contributi video
inserimento di immagini foto/video nei siti web, nei social media, su Flickr e nei media tradizionali (quotidiani, riviste e TV)
attività di comunicazione e promozione del ClubTi Marche
When & Where
Via Ingegner Roberto Bianchi
60131 Ancona
Italy


Friday, March 23, 2012 from 3:10 PM to 7:00 PM (CET)
Add to my calendar
Organizer
Il Club per le tecnologie dell'Informazione e dell'Innovazione Italia Centro è un'Associazione senza fini di lucro. Il Club Ti Centro si inserisce nel circuito della Federazione Nazionale delle Associazioni Professionali di Information Management FIDAInform ed è composto da IT Manager ed esperti riuniti in modo spontaneo e a titolo personale.
Scopo dell'Associazione è quello di raccogliere e collegare tutti gli esperti IT delle Marche, dell'Umbria, dell'Abruzzo e della Toscana per rappresentare un nucleo di grande competenza, punto di riferimento per l'IT della realtà marchigiana.
www.clubticentro.it
info@clubticentro.it
twitter.com/clubtimarche