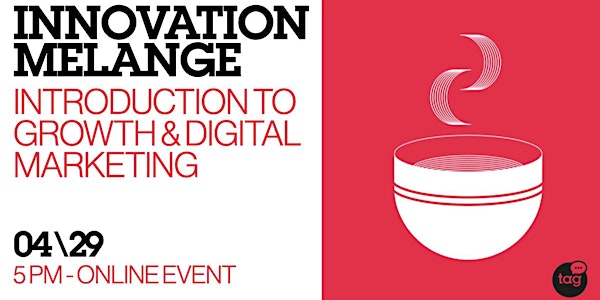 Introduction to Growth & Digital Marketing || ONLINE WORKSHOP
Welcome to the Innovation Melange! Join this free Online Workshop "Introduction to Growth & Digital Marketing" with Dominik Berger.
About this event
Online Workshop: Introduction to Growth & Digital Marketing
This free online workshop offers an interactive introduction to the topics of digital marketing and growth hacking.
During this workshop, we will explore best practices and gain valuable insights into the daily work of digital marketers and growth hackers. Learn how to use data for better decisions and understand how various digital marketing channels work together.
By that, you will catch a first impression of our 3-month full-time Growth & Digital Marketing Bootcamp that starts in June 2020. Furthermore, you will get an overview of the Bootcamp's content, meet the Innovation School Team, talk to alumni from the last class and connect with your potential future fellow students.
Agenda of the Workshop:
15 min: Short Introduction to Growth & Digital Marketing
35 min: 5 Proven Tactics for Digital Growth in 2020
10 min: Q&A, Introduction of the Talent Garden Innovation School Courses
The Expert:
Dominik Berger, Founder & CEO of Attention Fox, Scientific Coordinator at the TAG Innovation School
Dominik is the founder of the digital agency Attention Fox. He supports and advises companies from different industries on the subjects of content strategy, content marketing, SEO, e-commerce, and performance marketing. Additionally, he also has acquired many years of experience in adult education. Dominik studied Information Systems at the Vienna University of Economics and Business and works with his team remotely from anywhere in the world.
Key-takeaways:
Understand the value of digital marketing
Know what to avoid in digital marketing
Know how to empathize with your customers
Learn more about our 3-months full-time Growth & Digital Marketing Bootcamp
Get to know the Innovation School team and have all your questions concerning our learning programs answered
Talk to alumni from the last class and get first-hand insights
e-connect with like-minded people who might become your fellow students
Who is this event for?
This workshop is for everybody who wants to learn more about Growth & Digital Marketing and everyone who is interested in our Bootcamps in June 2020. Beginners are welcome.
About the Talent Garden Innovation School
The Talent Garden Innovation School provides fast, in-depth and hands-on training programs designed to meet the real needs of the job market. We offer courses in the fields of digital technologies and innovation, with a focus on coding, UX design, data analysis, and digital marketing. Our formats range from 2-day Masterclasses to 6-weeks part-time and 3-month full-time programs.
What's the Innovation Melange about?
> Melange <
Noun
A mixture, or a group of different things or people
Austrian milk coffee, half of which consists of milk
The Innovation Melange is the monthly event open to the public organised by the Talent Garden Innovation School Vienna. At each event, you can listen to short talks based on innovation or digital tech topics, learn from the speaker's experiences and discuss afterwards with the others. The speakers will be either members of our Talent Garden Community, industry experts in the specific field or members of the Talent Garden Innovation School faculty.
Important information
This event is an online event and will take place on ZOOM.
After your registration on Eventbrite, you will receive an e-mail with the link to the actual online event. You can enter via the link provided on the day and time of the event (April 29, 5pm).
The number of guests is limited and only registered people can enter the event.
Please note that the event will be recorded and it's content might be used for future marketing activities.