INTERZONA_Ryoji Ikeda performing Supercodex | AUDIOVISUAL PERFORMANCE

Saturday, March 21, 2015 at 10:30 PM (CET)
Event Details
Ryoji Ikeda performing Supercodex (glitch, minimal abstract-techno_JP)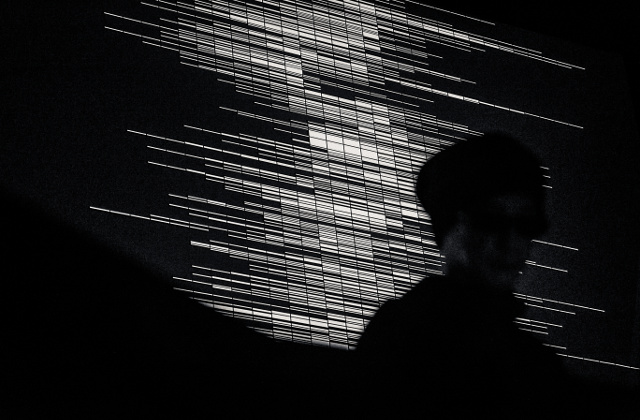 Supercodex [live set], 2013
photo by Ryo Mitamura
concept, composition: Ryoji Ikeda
computer graphics, programming: Tomonaga Tokuyama
---
Interzona presenta Supercodex, una delle più recenti produzioni dell'artista giapponese Ryoji Ikeda, tratta dall'omonimo album del 2013 e parte della trilogia discografica prodotta dall'etichetta Raster Noton.

Ikeda è attivo in tutto il mondo con concerti, installazioni e pubblicazioni che lo hanno consacrato tra i compositori più radicali e innovativi della scena contemporanea. I suoi lavori sono opere pionieristiche nell'esplorazione di sonorità minimali ed estreme. In quasi vent'anni di ricerca tra otto album, pubblicazioni, un numero decisamente maggiore di installazioni ambientali e performance live dove la sua arte videosonora si è trasformata in esperienza sensibile, Ikeda si è contraddistinto per la sua innegabile capacità di interpretare l'infinito rapporto fra arte e tecnologia.
Orchestrando suono, immagini, materiali, fenomeni fisici e nozioni matematiche, plasma coinvolgenti spettacoli dal vivo e installazioni artistiche.

In questa edizione del progetto, Supercodex avrà la forma di un audiovisual performance live, tra suono digitale e immagini, che esplorerà le potenzialità insite nella relazione tra data of sound e sound of data, ricerca che si struttura nella trilogia inaugurata nel 2005 con Dataplex (2005) e proseguita tre anni più tardi con Test Pattern (2008): tre lavori in cui Ikeda ha confezionato i risultati di una complessa ricerca sul rapporto dualistico fra il suono digitale e la sua traduzione in forma di dati informatici. 

Obiettivo della trilogia è l'elaborazione di una matematica del suono, di un principio di calcolo in grado di trasformare gli algoritmi in mezzi espressivi autentici e al tempo stesso elaborare rappresentazioni visive e sonore delle informazioni in essi contenute, come accaduto nell'imponente installazione video progettata nell'ambito di Test Pattern in Times Square a New York nell'ottobre 2014.

Se quindi Ikeda, con i suoi progetti precedenti, aveva già testato i limiti delle possibilità concettuali del suono digitale e dei suoi riferimenti verso una techno astratta, con Supercodex arriva all'estrema sintesi di questi concetti. In quest'ultimo album infatti Ikeda integra, differenzia e re/de/meta - costruisce la musica, oltre che le esperienze avute con i suoi precedenti progetti di installazioni artistiche. Ciò che ne risulta è un sunto della sua ricerca, potenziata e ancora più immersiva. 

Nella sua componente live Supercodex si compone di diversi e continui frammenti, in cui Ikeda crea un flusso unico, una meta opera che accompagna lo spettatore in un variare progressivo di tonalità e dettagli, che riesce a finalizzare, a livello sia estetico che strettamente sensoriale, quell'unione contingente tra dimensione visiva e uditiva capace di rivelare l'esistenza di un cuore pulsante fra calcoli e codici, ma anche l'essenza aritmetica e computazionale del suono.

In questo lavoro si delinea un legame e un proseguimento che attinge anche al suo nuovo progetto a lungo termine Superposition (2012) che permette di trasformare in suono informazioni quantistiche e stringhe di dati, la cui installazione è stata già esposta presso il Metropolitan Museum of Art di New York nel 2014.
When & Where

Associazione Culturale Interzona
Via Scuderlando, 4
37135 Verona
Italy


Saturday, March 21, 2015 at 10:30 PM (CET)
Add to my calendar
Organizer
www.izona.it
info@izona.it