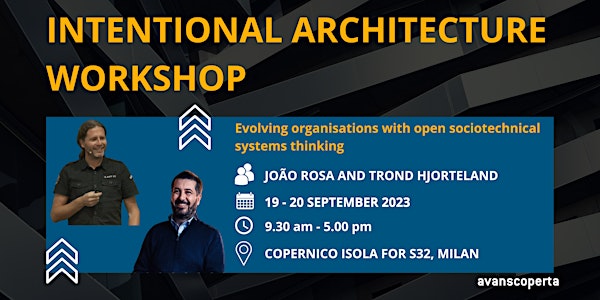 Intentional Architecture Workshop
Evolving organisations with open sociotechnical systems thinking
Date and time
Tue, 19 Sep 2023 09:30 - Wed, 20 Sep 2023 17:30 CEST
Location
Copernico Isola For S32 Via Sassetti, 32 20124 Milan Italy
Refund Policy
Contact the organiser to request a refund.
About this event
1 day 8 hours

Mobile eTicket
Milan, 19th-20th September 2023. Trainers: João Rosa and Trond Hjorteland. 
Abstract
The rapidly changing world demands that organisations adapt quickly, and software plays a crucial role in this evolution. However, traditional methods often lead to growing unnecessary complexity, increased difficulty in system evolution, and a rising cost of change, ultimately putting pressure on the people involved.
In this Intentional Architecture Workshop with João Rosa and Trond Hjorteland, we delve into open sociotechnical systems thinking, which jointly optimises the social and technical systems while putting people at the centre of the design.
By integrating principles from open sociotechnical systems theory, Domain-Driven Design, Wardley Maps, and Team Topologies, we will explore the organisation's environment, identify sensible boundaries for teams and architecture, and generate options for the evolution of the sociotechnical system.
This hands-on, interactive workshop will equip you with the knowledge and tools to create more adaptive, resilient organisations and software systems.
Target Audience
The workshop targets folks who are involved in decisions about architecture (business, product and/or IT).
The learnings are more effective when people already have some experience in the industry, and are eager to learn how to optimise their organisation's socio and technical aspects jointly.
Executives
VP/Directors/Head of IT/Business/Product
Enterprise/Solution/Software architects
Business analysts
Product managers
(Senior) Software engineers
UX
Team managers.
Topics
Open sociotechnical systems and their role in organisational design: Explore the concept of open sociotechnical systems and how they provide a framework for balancing social and technical aspects, leading to more adaptive and resilient organisations.
Identifying options for architectural evolution: Learn techniques for observing and interpreting the environmental factors that impact your organisation, enabling you to make informed decisions about architectural changes and improvements.
Putting it all together: Leveraging Domain-Driven Design, Wardley Maps, and Team Topologies to optimize sociotechnical systems. By learning how to combine the practices and principles of those approaches, you can develop strategies to improve the architecture and the organisation structure continuously.
Program
Navigating the complexities of software development in a turbulent world
In today's fast-paced, ever-changing environment, organisations must adapt quickly to stay competitive. This program session will dive into the challenges and complexities of software development in such a turbulent world, discussing the impact of technological, social, and economic factors. By understanding these complexities, participants will be better prepared to identify strategies for building resilient, adaptable systems that can respond effectively to change.
Designing adaptive, resilient organisations through open sociotechnical systems thinking
Organisations that embrace open sociotechnical systems thinking are better equipped to balance their operations' social and technical aspects, leading to more adaptable and resilient systems. In this session, participants will learn the principles of open sociotechnical systems and how they can be applied to design software and organize teams effectively. We will explore scenarios and examples demonstrating this approach's benefits, helping attendees understand the importance of integrating social and technical considerations into their organisational design.
Applying practical techniques for an intentional architecture and team organisation
To create an adaptive, resilient organisation, it is crucial to understand and apply practical techniques for architecture and team organisation. In this workshop, participants will delve into the approaches such as Domain-Driven Design, Wardley Maps, and Team Topologies. We will discuss their practical applications in designing, evolving, and optimizing sociotechnical systems. Through hands-on exercises and group discussions, attendees will gain the skills and knowledge needed to create a more effective, responsive organisation that can navigate the complexities of the modern world.
Agenda
Day 1
Overview of what an open sociotechnical system is
Understand how to sense the environment to create options for the architectural evolution
Discuss the two organisational design principles, and their implications
How to create different options for the architecture
Day 2
Explore how to implement the different options for the architecture
How to jointly optimise the sociotechnical system
Patterns and practices to evolve the sociotechnical system
Learning Objectives
Learn how to design systems while dealing with an uncertaint environment
Discover how to create evolutionary paths for the architecture (IT, product and business) and be intentional about its options
Understand how the principles and practices can be applied to create a more effective and resilient architecture (and organisation), regardless of whether you are a technical or non-technical professional.
Expect to get your hands dirty - How it works
In this workshop, you will participate in a variety of hands-on activities designed to help you internalize the principles of open sociotechnical systems thinking. You'll have the chance to explore and apply the concepts in real-world scenarios through group exercises, small group discussions, and individual reflection.
We've carefully designed each activity to provide a balance between theory and practice, ensuring that you gain a comprehensive understanding of the workshop topics. You'll engage in puzzle-solving tasks, through a series of scenarios of a fictional organisation, all aimed at giving you practical experience in designing and implementing open sociotechnical systems.
To facilitate this hands-on approach, we'll employ various visual collaboration tools and use physical materials like pens, post-its, and paper during the exercises. The trainers will be there every step of the way, providing valuable insights, answering questions, and fostering a dynamic environment where participants can learn from one another.
This hands-on, interactive workshop is designed to provide you with practical experience and tools that you can apply immediately to your organisation.
Why should you buy a ticket
Come ready to engage, collaborate, and expand your skillset in this immersive, hands-on workshop that will transform the way you approach software development and team organisation.
This workshop is an opportunity to acquire practical knowledge which will enable you to increase the intentionality in your architecture. In today's fast-paced world, organizations must adapt swiftly, and you have a chance to experience how to create an adaptive and resilient system during the workshop.
F.A.Q.
Do I need to know anything beforehand in order to join the workshop?
If you read until here, we believe that you have the foundations in place. It is important to recognise that we operate in an unpredictable environment and how complexity affects the sociotechnical system (and, by the way, how the sociotechnical system affects the environment).
However, if you have never heard about sociotechnical systems but you have experience in the industry, and you know that the current trend of organisation structure is not effective, this is the workshop to be!
Your experience is valuable, and the workshop is designed for anyone to participate and share their knowledge and experience
Anything I need to read before the workshop?
Not a strict requirement, but you can take a look at the below links:
Thriving in the Complexity of Software Development Using Open Sociotechnical Systems Design by Trond Hjorteland
An Open Systems Thinking Perspective on Agile Transformation by Peter Aughton
Tools & Laptop: Do I need my laptop?
You won't need a laptop to join this workshop. We'll work with pen and paper.
In this highly interactive workshop, you'll be engaging with the trainers and other attendees most of the time. We'll also spend much time standing and walking around, so please remember to wear comfortable shoes.
Learning materials: Will there be anything to take away with me after the workshop is over?
Yes, you will have some booklets and other learning materials to take home.
Anything else that's needed for this workshop and is not listed above?
Be curious and open. It's our natural state, and it will be effective for this workshop.Safety and COVID-19: What are you doing to create a safe learning environment?
We and the staff at the venue are working hard to adopt all the needed measures to prevent the diffusion of COVID-19 by following the National and local guidelines.
Moreover, we believe that a great learning experience can happen only if all the people involved (the trainer, the participants, the organisers, and so on) feel safe, so we've added a few more guidelines in order to accomplish this goal and make sure everyone is taken care of.
Check out the venue page to find out more, and do not hesitate to reach out to us should you have any questions or concerns.
Do I need to know something beforehand in order to participate in this workshop? Prerequisites?
Some familiarity with agile and lean methods and principles in general. Deep experience is not necessary, but we won't be explaining basic concepts such as value streams, feedback cycles, and continuous improvement.
Do I need my laptop?
You won't need a laptop. This is a highly interactive workshop which involves spending some time standing and working in groups.
N.B.
The workshop will be confirmed upon reaching a minimum number of participants. All registered participants will be notified by email no later than 20 days month prior to the workshop date.
Last chance! The last date to buy a ticket for this workshop is Friday 1st September 2023. If we don't reach the desired minimum number by then, the workshop will not be confirmed and it will be postponed… don't wait until the day before to buy the tickets!
The sooner we reach the minimum numbers, the sooner the workshop gets confirmed.
About the workshop
Language: The workshop will be held in English.
Time: from 9.30 am to 5.30 pm.
Venue: Copernico Isola For S32 (Via Sassetti, 32, 20124, Milan).
Laptop: Check out the F.A.Q. section.
Dress code: Informal. We recommend you wear comfortable shoes as the majority of the activities will involve walking around and standing up most of the time.
Included in the price: coffee breaks and lunch with the trainer and the other attendees are also included in this ticket... because networking matters.
Book it for your company
Contact us using the form at the bottom of this page if you wish to arrange a private custom edition of the Intentional Architecture Workshop.
How to get to Milan?
You can get to Milano Centrale by flying into one of these three airports: Linate, Malpensa, and Bergamo Orio al Serio.
Check out the Copernico Isola For S32 page and get it sorted! With plenty of handy information on accommodation, travel options, where to find the training venue, and much more!
Questions? Drop us a line: info@avanscoperta.it
Link to the website
https://www.avanscoperta.it/en/training/intentional-architecture-workshop/
Trainers
João Rosa and Trond Hjorteland
Under_Cover_Learner Discount - SAVE 20%
If you're paying the ticket out of your own pocket and you don't have a VAT number, you can get a 20% discount on any tickets and on any ticket tiers!
How? Just enter the Under_Cover_Learner promotional code in the registration field on Eventbrite.
Please note: This code cannot be used in conjunction with any other offers/discount codes, and it applies to any ticket tier.
If you need to pay with PayPal, drop us a line at info@avanscoperta.it.
We accept the following methods of payment:
PayPal, Credit/Debit card (via PayPal, click on the link: "Don't have a PayPal account?"), Bank transfer (upon request - contact us at info@avanscoperta.it).
T&C, Privacy Policy, cancellations and refunds, Venue info
Find out more at this link.
About the organiser
We are Learners!
Avanscoperta is the go-to learning space for developers, designers and any professional involved in the digital ecosystem. 
We're an Italian-based coaching and training company focusing on the professional growth of teams and individuals within software development, product leadership, team and change management. Join our community! http://bit.ly/-_-Newsletter