InnoTech - Innovation moves forward
When and where
Location
IMA Centro Servizi 237 Via Emilia 40064 Ozzano Dell'emilia Italy
Description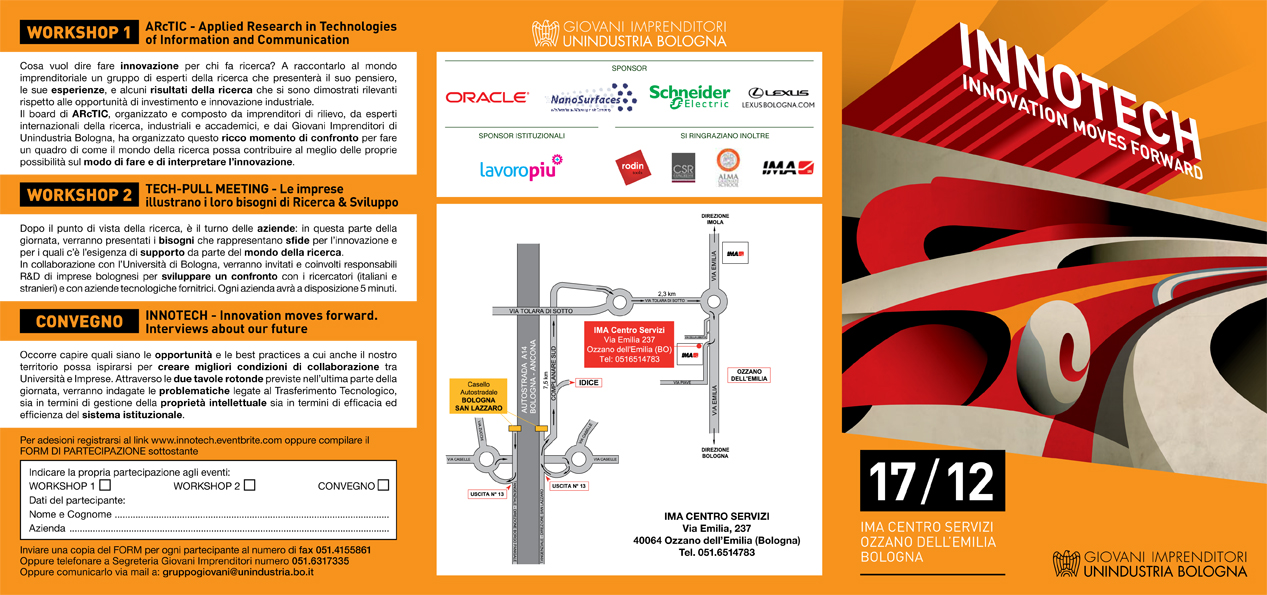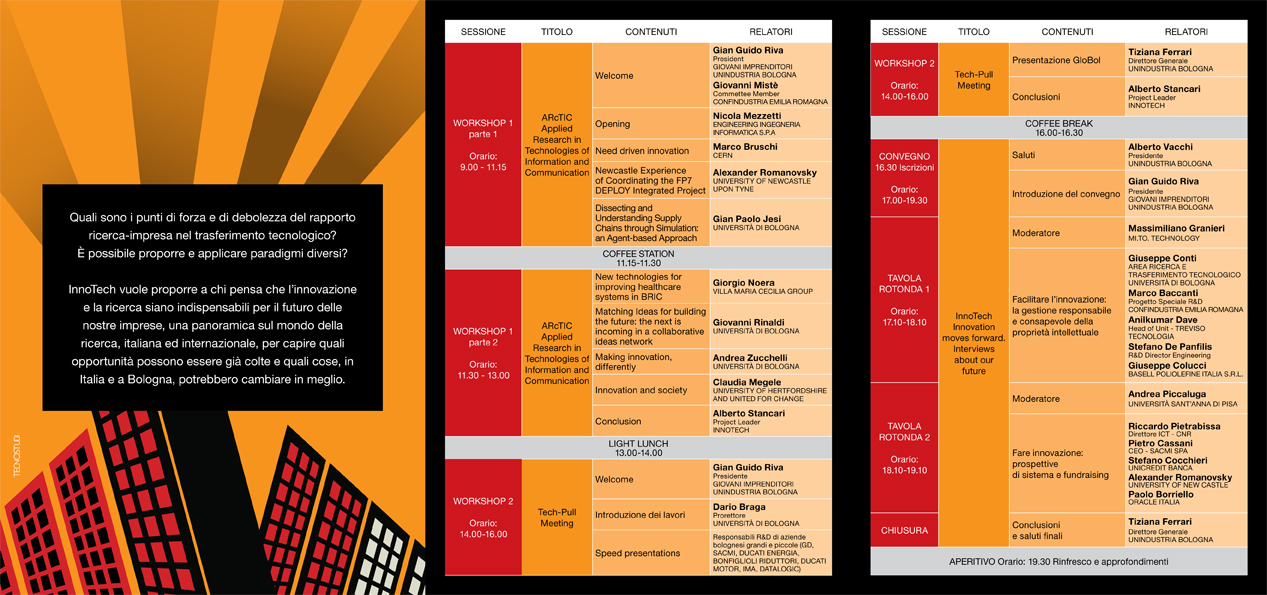 InnoTech - Innovation Moves Forward

Quali sono i punti di forza e di debolezza del rapporto ricerca - impresa nel trasferimento tecnologico? È possibile proporre e applicare paradigmi diversi? InnoTech vuole proporre a chi pensa che l'innovazione e la ricerca siano indispensabili per il futuro delle nostre imprese, una panoramica sul mondo della ricerca, italiana ed internazionale, per capire quali opportunità possono essere già colte e quali cose, in Italia e a Bologna, potrebbero cambiare in meglio.
WORKSHOP 1 ARcTIC - Applied Research in Technologies of Information and Communication
Dov'è arrivata, oggi, la ricerca in ambito ICT e quali sono le opportunità in gioco? A raccontarlo al mondo imprenditoriale un gruppo di ricercatori, che presenteranno i risultati delle loro attività di ricerca. Il board di ARcTIC, formato da docenti universitari dell'ICT provenienti da diverse università straniere e dai Giovani Imprenditori di Unindustria Bologna, ha voluto lanciare una serie di "call for papers" e, dopo una attenta valutazione dei lavori pervenuti, ha selezionato i migliori lavori. Sarà per tutti l'occasione per prendere coscienza di cosa la ricerca possa offrire e di dove sta puntando la propria attenzione.
WORKSHOP 2 Tech-Pull Meeting - Le imprese illustrano i loro bisogni di Ricerca & Sviluppo
Dopo il punto di vista della ricerca, è il turno delle aziende: in questa parte della giornata, verranno presentati i bisogni che rappresentano sfide per l'innovazione e per i quali c'è l'esigenza di supporto da parte del mondo della ricerca. In collaborazione con l'Università di Bologna, verranno invitati e coinvolti responsabili R&D di imprese bolognesi per sviluppare un confronto con i ricercatori (italiani e stranieri) e con aziende tecnologiche fornitrici. Ogni azienda avrà a disposizione 5 minuti.
CONVEGNO InnoTech - Technology moves forward Interviews about our future
Occorre capire quali siano le opportunità e le best practices a cui anche il nostro territorio possa ispirarsi per creare migliori condizioni di collaborazione tra Università e Imprese. Attraverso le due tavole rotonde previste nell'ultima parte della giornata, verranno indagate le problematiche legate al Trasferimento Tecnologico, sia in termini di gestione della proprietà intellettuale sia in termini di efficacia ed efficienza del sistema istituzionale.

------------------------------------------------------------------------------------------------------------------
By bringing universities and industries together on stage, InnoTech will assist them through the applied research paradigm shift. On the one hand, industries will be on the stage for presenting the challenges for innovation in their specific industry areas; on the other hand, universities will exhibit their most promising research results, in terms of innovating potential and business perspectives, previously selected by a program committee consisting largely of representatives of key industries.
The purpose of InnoTech is to foster a shift in the culture and in the way of doing innovation by investigating, jointly with representatives of both industry and university, a set of good practices enabling the actuation of novel cooperation models, capable of improving the effectiveness and the efficiency of the assets deployed for innovation projects while guaranteeing fairness and profitability to all the involved stakeholders.
InnoTech is composed by:
9.00 am - The ARcTIC symposium, that will open the InnoTech event, that will discuss about innovation from an Academic perspective and in which promising research results will be presented.
2.00 pm- A Tech-Pull Meeting session in which important industry representatives will share their vision about the innovation challenges that could enable business and cooperation opportunities, as well as new funding channels for applied research and technology transfer initiatives, in the next future. The speakers will be made public shortly.
5.00 pm - InnoTech - Innovation moves forward session in which two round tables will be held in order to discuss the issues of (1) intellectual property management and cooperation models in relation with making innovation and of (2) experiences about making innovation. The participants to the round tables will be made public shortly.
HOSPITALITY
- Eurogarden Hotel ****S - Ozzano dell'Emilia, www.eurogardenhotel.com

Close to the location of the event, about 20 km to the city center of Bologna, bus 94 every 30 minutes

Specify the agreement with Unindustria Bologna
- Hotel I Portici ****L - Bologna, www.iporticihotel.com

Close to the city center of Bologna and to the train station, about 20 km to the location of the event, bus 94 every 30 minutes
Specify the agreement with CSR Congressi