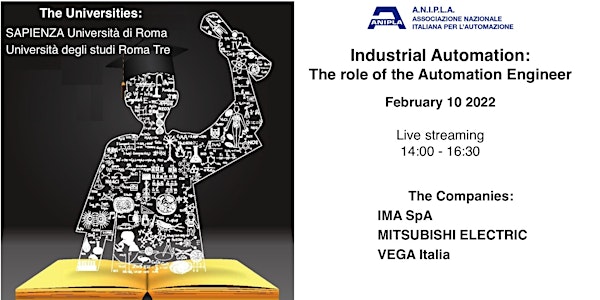 Industrial Automation: The role of the Automation Engineer
The meeting is aimed at bringing the domain of education closer to that of companies operating in the automation sector
About this event
Despite the spread of information, it may happen that some students, recent graduates, might face difficulties in making an appropriate career choice and do not consider the possibility of a career in companies operating in the field of Automation. To help overcome these drawbacks, since 12 years ago, ANIPLA has been promoting initiatives aimed at bringing the domain of education closer to that of companies operating in the Automation sector.
The event will be organized on the Microsoft TEAMS platform.
For more information contact the Anipla Secretariat (Mon-Fri 9.30am-3.30pm) (e-mail: anipla@anipla.it, tel 02 39289341; mobile: 344 0671663)
For information on how to connect, contact A. Servida (e-mail: servida@unige.it).
The event program is available at this link
The event is reserved to students of the Universities of SAPIENZA Università di Roma and Università degli studi Roma Tre
The event will be recorded