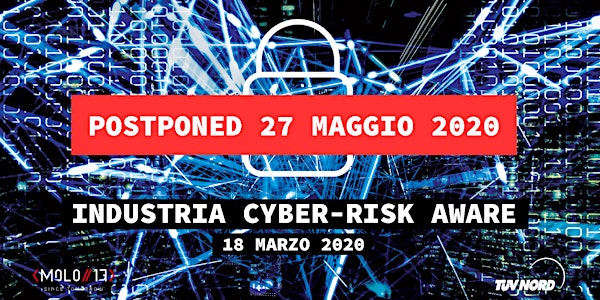 Industria Cyber-Risk Aware
Introduzione alla IEC62443 e cybersecurity per l'automazione dell'Industria 4.0
When and where
Location
Copernico Milano Centrale 38 Via Copernico 20124 Milano Italy
About this event
DI COSA SI TRATTA
Le minacce informatiche attuali rischiano di compromettere sempre in modo più pericoloso le reti informatiche aziendali ed i sistemi di automazione. Tramite l'utilizzo di tecniche di security digitali è possibile garantire un elevato livello di sicurezza informatica, aumentando il livello di protezione dei dati e l'affidabilità dei sistemi.
A CHI È RIVOLTO
Aziende 4.0
Manager
Tecnici e operatori
OBIETTIVO
Introduzione al tema con esempi pratici
PROGRAMMA
8:30 Registrazione partecipanti
9:15 Functional Safety 61508 / 61511 e Security 62443 Industrial communication networks – Network and system security
10:00 IEC 62443-3-3: System security requirements and security levels: requisiti ed esempio di applicazioni
10:45 Pausa
11:00 IEC 62443-3-3 continuazione
12:30 Pranzo
13:30 IEC 62443-4-2: Technical security requirements for IACS components: requisiti ed esempio di applicazioni
15:30 Pausa
15:45 IEC 62443-4-2 continuazione
16:45 Conclusione
RELATORI
Marco Cosatto, Cybersecurity Specialist - MOLO17
Marco Cencio, Functional Safety Specialist - TÜV NORD Italia
INFORMAZIONI
Posti disponibili: 15
Costo: 350 €
Per informazioni e modalità di pagamento, si prega di scrivere alla mail prodotto@tuev-nord.it o di contattare il numero +39 0331 541488 .
CHI É MOLO17
MOLO17 è una software house del gruppo The Harbor che si rivolge ad Aziende e Partner Strategici interessati ad intraprendere progetti sfidanti sul fronte tecnologico. È orientata ad imprese alla ricerca di un interlocutore trasparente in grado di fornire soluzioni software innovative, efficaci ed affidabili.
CHI É TÜV NORD
TÜV NORD ha molti anni di esperienza nei settori della functional safety e della sicurezza IT. Con l'analisi combinata di risk e threat, forniamo ai nostri clienti strumenti validi per la valutazione o la gestione della situazione di pericolo. I nostri specialisti supportano in tutte le questioni relative alla verifica pratica e alla convalida delle misure implementate e durante il processo di implementazione all'interno dell'organizzazione.