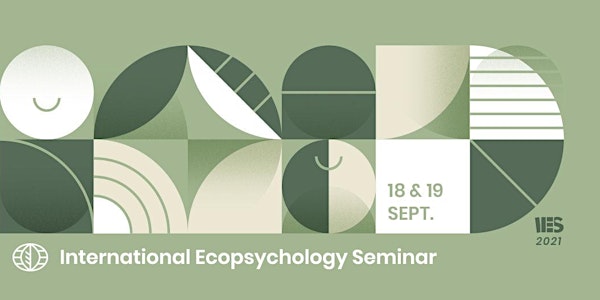 IES 2021 International Online Seminar
IES International Online Seminar, "Applied Ecopsychology for Earth Citizenship". 18 and 19 September 2021
About this event
Applied Ecopsychology for Earth Citizenship
September 18 and 19, 2021.
The seminar will be a meeting place for IES associates to share:
• practical experiences
• theoretical reflections
• workshops
• round tables
• ceremonies
• multimedia posters about activities
• projects that our associates are developing in their territories
This time we will focus on applied ecopsychology: intervention experiences in the field of earth citizenship.
Being a Citizen of Earth can be defined as living in harmony with nature and being willing to work for the health and well-being of the planet and humanity. It is an invitation to take responsibility for the problems that are occurring around us and to take steps to resolve them.
We hope to see you at our next online seminar for all members, on September 18th and 19th.
The Online Seminar is free for IES members. To become an IES member, please CLICK HERE
Ecopsicología Aplicada para la Ciudadanía Terrestre
18 y 19 de Septiembre 2021.
El seminario será un espacio de encuentro de los asociados a la IES para compartir:
•experiencias prácticas
•reflexiones teóricas
•talleres
•mesas redondas
•ceremonias
•posters multimedia sobre actividades •proyectos que están desarrollando nuestros asociados en sus territorios
En esta oportunidad enfocaremos en la ecopsicología aplicada: experiencias de intervención en el campo de la ciudadanía terrestre.
Ser un Ciudadano de la Tierra puede definirse como vivir en armonía con la naturaleza y estar dispuesto a trabajar por la salud y el bienestar del planeta y la humanidad. Es una invitación a responsabilizarnos de los problemas que están ocurriendo a nuestro alrededor y a tomar medidas para resolverlos.
Esperamos verte en nuestro próximo seminario on line dirigido a todos los miembros, los días 18 y 19 de septiembre.
El seminario on line es gratuito para los miembros de IES. Para asociarte a IES hagas CLIC AQUÍ