ICT AL SERVIZIO DEL CITTADINO - SANITA' & WELFARE

Friday, November 30, 2012 from 2:30 PM to 6:30 PM (CET)
Event Details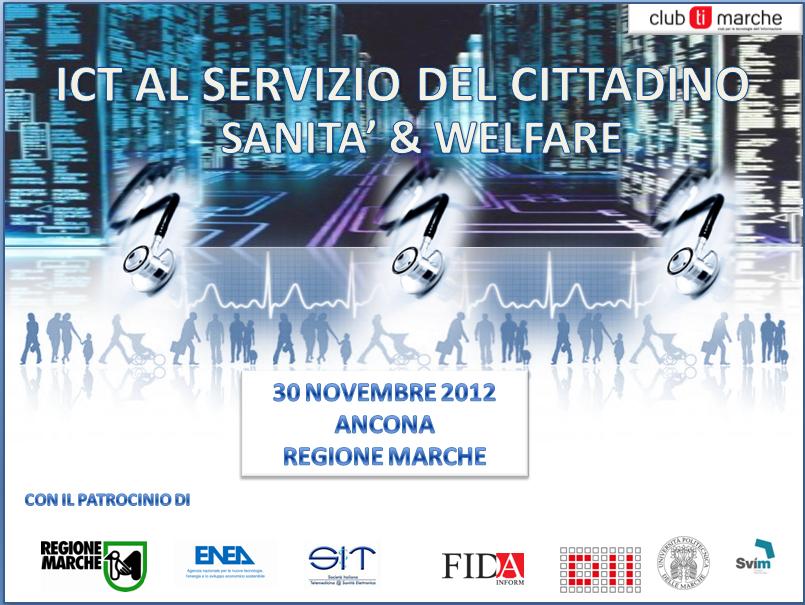 "ICT  al servizio del cittadino – Sanità & Welfare" è un evento ClubTi Marche che nasce allo scopo di presentare lo stato dell'arte  e le prospettive future della tecnologia in ambiti territoriali in tema di sanità e welfare. Questi saranno i principali temi di approfondimento  che vedranno al tavolo di confronto alcuni tra i maggiori protagonisti coinvolti attivamente nello sviluppo di soluzioni  tecnologiche e telematiche per l'erogazione di servizi socio-assistenziali  appartenenti ad enti pubblici, università, istituzioni territoriali e nazionali.
Infine si cercherà di comprendere come tutto ciò può incidere sullo sviluppo economico e sul tessuto industriale locale e nazionale  nella realizzazione di servizi  al cittadino.
Parteciperanno al convegno alcuni tra i più importanti esponenti del mondo della ricerca, del mondo accademico, della sanità e della telemedicina:
Sauro

Longhi

-

Dir. Dip Ingegneria Informatica UNIVPM

Serenella Carota

-

Dirigente P.F. Sistemi Informativi e Telematici - Regione Marche

Massimo Trojani

-

Funzionario

P.F. Sistemi Informativi e Telematici - Regione Marche

Angelo Rossi Mori

–

Ricercatore c/o

Unità Sanità Elettronica, Istituto Tecnologie Biomediche del

CNR

Sergio Pillon

-

Direttore Unità Operativa Dipartimentale di Telemedicina, A.O San Camillo-Forlanini, Roma

Marco Mazzanti 

-

Responsabile "Cardiac Imaging e Telecardiologia"Azienda Ospedaliero-Universitaria "Umberto I°-GM Lancisi-G Salesi" - Ospedali Riuniti di Ancona

Giancarmine Russo

-

Segretario generale

S.I.T.

- Società Italiana Telemedicina e sanità elettronica

Giovanni Libertini

-

Direttore Sistema Informativo Aziendale, Ospedali Riuniti di
Ancona

Francesco Cicchitelli

-

Responsabile B.I. - Banche Dati - Flussi Informativi, ASUR Ztl 8 Civitanova Marche (MC)
Con la mediapartnership di
e-Health : Rivista sulla Sanità Elettronica della casa editrice Edisef
ICT Pro : Rivista digitale sull'Information Management di FIDAInform
Aggiornamenti, informazioni e programma evento su www.clubtimarche.it

When & Where

REGIONE MARCHE - PALAZZO LEOPARDI
9 Via Gentile da Fabriano
60125 Ancona
Italy


Friday, November 30, 2012 from 2:30 PM to 6:30 PM (CET)
Add to my calendar
Organizer
Il Club per le tecnologie dell'Informazione e dell'Innovazione Italia Centro è un'Associazione senza fini di lucro. Il Club Ti Centro si inserisce nel circuito della Federazione Nazionale delle Associazioni Professionali di Information Management FIDAInform ed è composto da IT Manager ed esperti riuniti in modo spontaneo e a titolo personale.
Scopo dell'Associazione è quello di raccogliere e collegare tutti gli esperti IT delle Marche, dell'Umbria, dell'Abruzzo e della Toscana per rappresentare un nucleo di grande competenza, punto di riferimento per l'IT della realtà marchigiana.
www.clubticentro.it
info@clubticentro.it
twitter.com/clubtimarche