Description
This event is organized by Data Science Milan, if you are not member please join the community at www.datasciencemilan.org.
Data Science Milan has established a partnership with Kx Systems, a UK company developing kdb+: one of the fastest and performant database in the world. The partnership aims at connecting digital startups involved with Big Data technologies or with a future potential to scale to large volumes of data.
Kx Systems is able to provide resources and operational expertise for product innovation and development to startups and at the same time access to its funding network.
The event will start with one of the brightest engineers of Kx, Kyle Corcoran.
Kyle will be explaining how Kx supports streaming analytics on extremely large data sets that would simply swamp traditional technologies. The talk is a perfect opportunity for members to learn about the power and scalability of Kx and how it can be applied to real-life business problems across a range of traditional industries from finance to manufacturing and the evolving challenges of IoT and everywhere connectedness.
The event will continue with a pool of startups that might be interested in this technology and willing to pitch their ideas, product or service. No business models. The major areas of interest are: analytics, machine learning, cyber security, AI, blockchain, robotics, nanotechnology, life sciences, neurology and more...
A FEW SPOTS LEFT!
Reasons to participate as a startup:
Getting known within the Data Science community
Receive feedbacks
Opportunity for a technology partnership
Opportunity for funding
If you would like to participate as a startup, get in touch with Gabriele (gabriele.pece@gmail.com).

The venue has limited capacity, thus we will have to limit the number of attendees. Please only RSVP "yes" if you really plan to attend. Only registered people will be admitted. Please update your RSVP in case you cannot join so that you can leave the seat to someone else from the waiting list.
Agenda:

18:00: Doors opening and welcome drink
18:30: "How Wall Street Tech can Speed up the World" by Kyle Corcoran, Data Scientist at First Derivatives (firstderivatives.com).
Presentation on Kx technology for very large data sets with a focus on streaming analytics.
19.00 Pitching session for Big Data startups.
There will be around 4/6 startup pitches of the duration of 15 minutes including QA. Attendees are invited to join our community slack team so that they will be able to participate to the voting via Slack using the app, web or laptop client. You can request an invitation at http://slack.datasciencemilan.org. We recommened to join and install the app before the event.
21:00 Pizza and beers
We will have to leave the location by 10pm.
---
If you are interested in doing a lightning talk or want to propose an event, hackathon, panel discussion, roundtable or any sort of initiative please submit your proposal at https://goo.gl/forms/mprwZfujXSAw9emk1 or get in touch with one of the member of the staff.
---
About the host: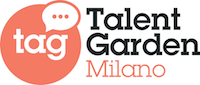 Talent Garden is a community of innovators of the digital age in which they find the tools to transform their business.
Whether your goal is to grow your business, become an innovator in your profession, or build the next revolution, in Tag you will find the space, the community and the support to make it happen. Easily. Now. Together.
TAG Milan is a hub in a global network of digital communities, which connect, support and accelerate digital innovation.
We are in two location in Milano: Campus Merano and the new Campus Calabiana.
https://milano-merano.talentgarden.org/