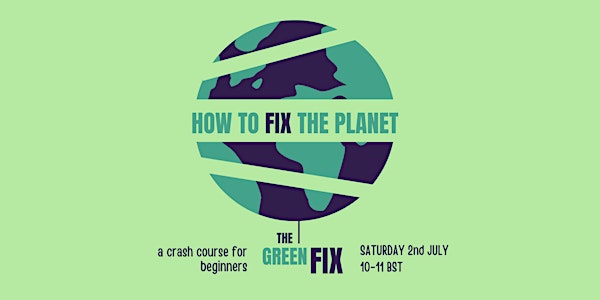 How to fix the planet: a crash course for beginners
Webinar by The Green Fix in the frame of the London Climate Action Week 2022
About this event
Feeling bombarded by bad news from around the world? Think you can't make a difference or paralysed about where to begin? In this workshop, Cass Hebron, the editor of climate advocacy newsletter The Green Fix explains why you have far more power than you think to tackle social and global issues. The workshop will address the barriers that prevent many people from taking action, and provide a crash course in becoming a confident and motivated actor of positive change!
Participants will be left with:
A clear idea of what an individual can do to make a difference to global issues
A roadmap for identifying how to make a concrete difference to a cause you care about.
Confidence in taking action to make the world a better place
Not sure if you're the kind of person that can make any difference to the big issues facing the world right now? Then you're probably the right person for this workshop.
See the event page: London Climate Action Week 2022