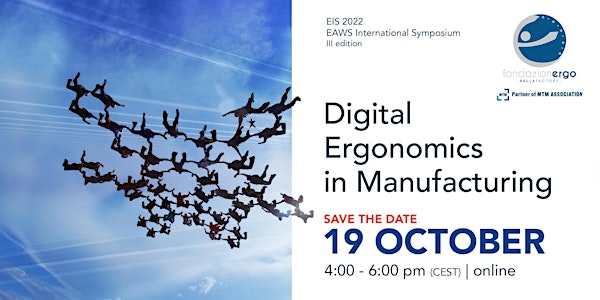 How digital technology is impacting Ergonomics, work design & risk mapping
Simulation, wearable technologies, motion capturing systems, automatic work analysis and upcoming innovations
About this event
Doing what has been said is essential for one's credibility.
In industry, the concept could translate into the ability to achieve productivity targets which have been set at the stage of product and process design. Nowadays, productivity targets cannot exclude the biomechanical load component: just as it is necessary to define the standard times of a manual task, it is absolutely important to predict the biomechanical load demand generated by the planned work content and its frequency of execution (takt time). 
The key to success lies in designing an effective and ergonomic work process (Method) and in combining it with the best human resource (with the right skills and the correct anthropometric and biomechanical characteristics). Once again it is a question of bringing together demand (of biomechanical energy) and supply (of performance). 
In the III edition of the EIS22 titled "How digital technology is impacting Ergonomics, from work design to risk mapping" we will address the issues of the application of the most modern digital technologies from product / production process design to the daily management of factory work efficiency, giving particular emphasis to the ergonomic aspects and risk mapping due to biomechanical overload.
Why should you register to the symposium?
listen to academic and industrial experts, who will share the results of their recent research and talk about the application of digital technologies in the best practices of their companies
understand the connection of scientific management of work and ergonomics with the ESG programs (social sustainability)
book a meeting with them to discuss your specific needs and unveil world class opportunities
A free 2-hours event, with the experiences of National Institute for Occupational Safety and Health (NIOSH), Volkswagen and Whirlpool and contributions of Chemnitz University of Technology, RWTH Aachen University, University of Bologna and Politecnico di Torino, as well as a speech by the software company Taktiq.