Grape Harvest Grape Stomping Wine Tasting and Lunch in the Berici Hills #2
Sales Have Ended
Ticket sales have ended
TICKETS SELLING IS OVER OR SOLD OUT THANK YOU - GRAZIE to all the attendees! For other info please do not contact directly the organizer / venue but email hello@italybyus.com instead. Thank you. See you soon - A presto! Agriturismo Da Sagraro (venue and organizer) Italy by US (media & language management)
Sales Have Ended
Ticket sales have ended
TICKETS SELLING IS OVER OR SOLD OUT THANK YOU - GRAZIE to all the attendees! For other info please do not contact directly the organizer / venue but email hello@italybyus.com instead. Thank you. See you soon - A presto! Agriturismo Da Sagraro (venue and organizer) Italy by US (media & language management)
A funny morning of grape harvest, grape stomping and wine tasting. Then an informal lunch, always with a beautiful overview of the flatlands
About this event
Enjoy a funny morning trying the real grape harvest in the vineyard and the grape stomping. A moment of Fattoria Didattica or "Educational Farm"  at the Agriturismo Da Sagraro dedicated to the world of grapes and wine. Then all sitting at the table to taste the wines and have an informal lunch together.
A "bilingual" (Italian and English) event, OPEN TO EVERYBODY. Children up to 2 years old are welcome too and they don't pay.
Schedule:
10:00 a.m. Meeting at "Da Sagraro" Farm / Winery and grape harvest in the vineyard for the whole family; grape collection in the trailer. Attention, the vineyards are located on a steep ridge of the hill.
11:00 a.m. At the wine cellar to see the first steps of the wine process; mosto (or "must", the fresh sweet grape juice) tasting.
11:15 a.m. Outdoor grape stomping: music and extra-dry spumante sparkling wine for everybody.
12:00 p.m. Lunch: they will be served appetizers of croutons, salami and a course with roasted meat with side dishes (instead of the meat the children will have handmade egg pasta with different sauces), then dessert for all. Water, different kind of wines, coffee, included.
Activities and Topics:
The harvesting and an introduction to the grapes processing at this small size Italian winery & agriturismo;
The Farmhouse provide:
• A specialized guide / farmer
• Interpreter Italian / English
At the expense of the participants:
• Displacement to the place of meeting
• Personal equipment (appropriate clothing, carrier bag to bring home some grapes, etc.)
Tickets available just via Facebook or via Eventbrite.
For other info about this event please do not contact the venue but contact hello@italybyus.com instead.
An event organized by Agriturismo Da Sagraro in partnership with Italy by US.
Event on Facebook: (soon)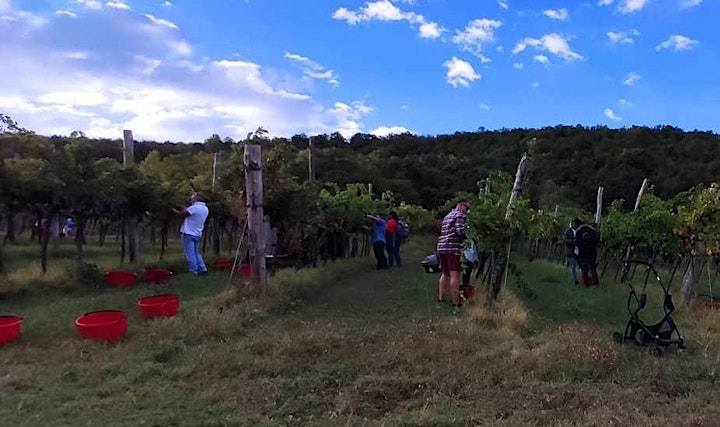 Organizer of Grape Harvest Grape Stomping Wine Tasting and Lunch in the Berici Hills #2