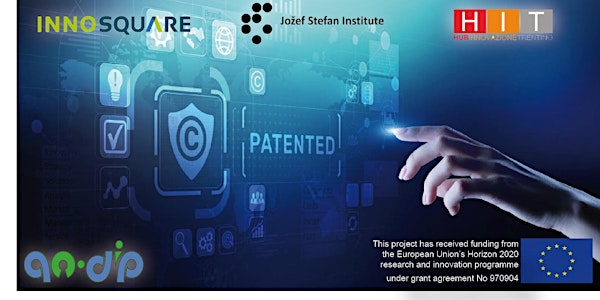 GO-DIP workshop series - 3rd: Exploitation of digital IP
IP protection, management and exploitation strategies for digital transformation in a series of 3 workshops
About this event
The digital transformation resulting from the implementation of Industry 4.0 changes the current IP management and understanding of the use of digital data.
The GO-DIP project aims to increase the competences of knowledge generators and intermediaries on how to protect and monetize digital IP and provide added value exploiting intangible assets such as data, methodologies, configuration of interconnected systems, 3D designs, processing algorithms. Moving towards digital a data-driven approach, embedded software into hardware, new questions arise concerning data sharing, data driven innovations, legal digital IP protection and data ownership.
Data-driven innovation and exploitation
In this third workshop we will address new revenue models with regards to exploitation of digital intellectual protection such as open source licensing, "software-as-a-service" (SaaS) applications , data spaces, Q&A concerning data ownership, protection and access will be provided. Practical use cases will be discussed how to define the value of digital data as the company's commercially viable strategic asset and use data for SME's innovation and business model change.
Agenda
14.30-14.50 Welcome, introduction to the project
14.50-15.20 Plenary speech with experts Matija Šuklje, Liferey Senior Counsel (https://www.liferay.com/); Aleš Veršič,MA , Ministry of public administration, Slovenia (www.mju.si)
15.20-16.00 Round table with best practices and cases
16.00-17.00 Workshop: State of play of data ownership and data intellectual property, assigning value to data based innovation, evolving business model cases & templates for usage based models, protecting AI and connected data, data spaces opportunities and other business models.
The event is online and in English. Connection details to join the meeting will be shared few days in advance.